If you need to store your winter or summer tires, BOXIE24 can offer you safe & affordable tire storage options.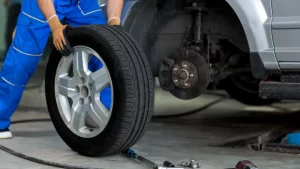 Winter Tire Storage
A well-cared-for set of winter tires can keep you and your family safe for years in the right condition. BOXIE24 are here to ensure that you can keep the same set in their best condition for the longest period possible, so you can get back to thinking of New York in winter as the picture-postcard beauty it is. Interested in our service? Give us a call at 844-337-7739.
Caring for your tires:
Good tire maintenance is important for safe driving year-round, but particularly in winter. That is why it is absolutely crucial to make sure that your winter tires are properly cared for so that, when the time comes to put them on, you get the level of safety that you paid for in the first place.
Winter tires are made of a compound that tends to degrade when used in road conditions above 44 °F, so they are not suitable for use throughout the year, particularly if you want that extra grip when roads get icy. This means the best thing you can do for your winter tires is give them a break for the months when they're not in use. When you have swapped your winter tires off, there are other steps that are important to take to ensure their integrity throughout the year.
Winter tires have to be stored correctly. This means that it has to be indoors, ideally in a temperature-controlled environment. This can be a difficult task in New York, where most people simply do not have the room for four tires for six months of the year, not to mention what to do with your summer tires in winter! A self-storage is an option, but paying for an entire, non-climate-controlled storage unit for four tires does seem quite extreme.
Luckily, there is a third option. With full service storage providers like BOXIE24, you can contact one of our storage experts who can suggest a plan to suit your specific needs. With plans starting from as small as 2×5, you can rest assured that you are not paying for more than you need. In addition, our climate-controlled warehouse, as well as the extensive experience of our warehouse team, means that we have the perfect environment to keep your tires in tip-top shape.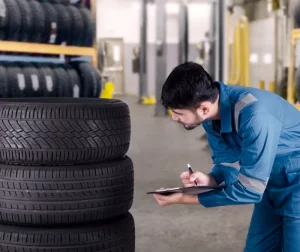 Winter Equipment for Your Car
It is true that only a bad workman blames his tools, but as a motorist you need to make sure that your car is suitably prepared for the cold winter months. There are a few steps to take that are simply good practice all through the year, but become of special importance through the winter months.
Car Battery
One such thing is ensuring that your car's battery is in good condition. The cold and damp of a New York winter can put unnecessary stress on an already struggling battery. This greatly increases the chance of a mechanical failure that could see you stuck in the snow on a winter's evening. Have your battery checked by a specialist periodically, but especially at the start of a cold period of the year

Antifreeze
As the name suggests, antifreeze is a liquid intended to stop your engine from freezing in cold weather. As the cold weather sets in, you need to make sure that your car is filled with the right amount of good quality antifreeze. Failing to do this can result in nasty, expensive damage to your car's engine. You can find your antifreeze in the coolant reservoir of your car, but check your car's manual for confirmation.

Check your windshield wipers
Winter conditions often mean more grit and grime being sprayed across your windshield. When conditions already lower visibility, this can be an extremely unpleasant experience. That is why it is vital to ensure your windshield wipers and wiper fluid are in good condition. Consider replacing your wipers at the start of every winter to make sure you are staying as safe as possible.

Be prepared for the worst
Carrying a winter survival kit in your car may seem like an extreme step, but if you regularly travel on icy roads in quiet areas of New York state or beyond, it may be worth the extra precaution. Many items that are recommended for a car safety kit, such as a high visibility jacket and or towrope, are smart items to have anyway, but consider adding things like a shovel, mobile phone charger, ice scraper and flashlight so that if you do end up stranded in the snow, you can take necessary precautions to stay safe.

Invest in winter tires
This is by far the easiest and most effective step you can take to make your everyday driving experience safer and better suited for the icy conditions of a New York winter. Winter tires are designed for use in colder, snowy and icy conditions. They have a wider tread to provide excellent grip in cold temperatures. While winter tires may seem pricey, in the long run you will save money as your regular tires will get a break from use in the arduous winter months. That, coupled with the far superior level of safety they provide, seem to make winter tires a no-brainer for any motorist dealing with New York's bitter winters.
More information about renting storage at BOXIE24?
Want to know quickly if we serve your area with our storage services? And how quickly we can pick up your items? Check out our storage locations or give us a call (for the fastest answer).