With BOXIE24 you can easily rent the warehouse space you need. Lease the exact warehouse space you need – from XXS to XXL. Rent without any commitment. Units available within 24 hours. Interested? Give us a call: 844-337-7739.
Index
Rent a warehouse in New York, NY
Warehouse space for rent: What's the Cost?
How it works: Warehouse Storage with BOXIE24
Small warehouse space for rent
What benefits are there to renting a warehouse? 
Rent a warehouse in New York, NY
In a city like New York, the need of having industrial space cannot be underestimated. However, you need to ensure you make the right choice for your business partner when it comes to flexibility. . So pick a partner you can trust to help your business grow.
BOXIE24 offers maximum flexibility in all five boroughs: whether you need a warehouse for rent in Staten Island, a warehouse for rent in Queens or if you are looking for a Bronx warehouse for rent.
Our storage facilities are located at:
530th Avenue, Suite 2208, New York, NY 10018
73 Sealey Ave #75, Hempstead, NY 11550
54 W 40th St, New York, NY 10018
140 Central Ave, Kearny, NJ 07032
​Using warehouse space for rent can allow for long-term savings on costs as well as open up new streams of revenue. In short, it offers flexibility to business owners.
Brooklyn warehouses
BOXIE24 offers various possibilities if you need a warehouse for rent in Brooklyn. From small sizes (2×5 being the smallest space available for lease) to 3000 square feet, we have it all! We will always adjust the storage size to your needs, don't ever pay more than what you are storing for.
Brooklyn, one of the boroughs of New York, has amazing houses, is full of history and has a rich and diverse culture, so it's no wonder people from all over the world move there. Brooklyn being a city with four distinctive seasons, you are bound to have extra items that you want to store away for the other seasons.
Rent a warehouse in Miami
In a tropical city like Miami, the need to secure a warehouse unit where your items are well cared for is essential. 
BOXIE24 Miami offers maximum flexibility in their modern, climate-controlled warehouses: whether you need a warehouse for rent in Palmetto Bay, Brownsville, or Golden Beach, BOXIE24 Miami will pick up your belongings in Miami and its surroundings.
By renting a space at BOXIE24 Miami means signing up for flexibility, once you store your belongings at our facility, with just a call away we can bring your belongings back to the location you request us to deliver them.
You can find more information about full-service self-storage at our self-storage Miami page or call us at 303-306-3736.
What Benefits are there to Renting a Warehouse?
Renting warehouse space can seem like something unnecessary to small business owners. However, it is not just Amazon that needs warehouse space. Extra industrial storage can bring many benefits for any size business:
Flexibility
Business storage needs can change day today. Take this into account when storing. Make sure that you can stay as flexible as possible with adjusting the size or length of your contract. At BOXIE24, we offer complete flexibility with options to cancel anytime and, with our teams often able to do next-day partial or full returns of your items, you stay in control.
Supply Chain security
More storage options can also mean that you can place larger orders for stock or materials at one time. This may save you money in the long run, as well as insuring you against problems with supply chain disruptions which can be so devastating for small businesses.
Room for growth
More industrial space can equal more growth. It can allow you the freedom to experiment with wider ranges of stock for an online audience without having to crowd your store with unsightly boxes, meant for customers in different states or countries. With the possibilities for money-saving and money-making that warehouse storage allows, there only remains to navigate the confusing world of New York storage before you can reap the benefits. That's where BOXIE24 can help!
Cost efficiency
Renting warehouse space is often much cheaper than renting retail space, especially in cities like New York. This means you can improve the capacity of your business without having to relocate to larger, significantly more expensive retail premises. This extra space can be used for many different purposes. It can be used to store seasonal or temporarily unused stock or furniture. This can be important for clothing stores that may have summer and winter lines or restaurants, who may need somewhere to put their terrace furniture when New York's icy winters begin to set in.
Service
What specific needs are unique to your items? That is the question that keeps business owners up at night. Think about the specific temperature, transport, and packing requirements of the items you want to store. At BOXIE24 we have a state-of-the-art, temperature-controlled warehouse with 24-hour security and fire suppression systems. This makes it the safest place to store your items. Safer perhaps, even, than your own stockroom.
Trust
Businesses are called livelihoods for a reason. Often they are the center of their owner's financial and personal lives. For this reason, it is important for your own peace of mind to make sure that your items are safe in the hands of a company you can trust. BOXIE24, as a family-owned company, is acutely aware of this. We are trusted by names such as Spotify and Starbucks because we offer a personal service that is unique to your business storage needs.
Reserve your warehouse space today: 844-337-7739.
Industrial Space for Rent: What's the Cost?
If you are a business owner, the chances are you will need storage options. From restaurants to clothing stores, from lawyers' offices to online retailers, everyone is in the market for industrial space. This means decisions you make about your storage solutions are impactful to your business model as a whole, especially in cities where self-storage is at a premium.
How much does it cost to rent a warehouse?
The lease you pay is typically dependant on two factors:
Square Footage
Lease Length
At BOXIE24 the rent per square foot ranges between $1.60 – $8.90 per month. The more warehouse space you rent and the longer the length of the lease, the cheaper it gets. With BOXIE24 you remain completely flexible: you sign a monthly lease without a minimum lease length and without a cancellation period.
How it works: Warehouse Storage with BOXIE24
If you are looking for a cheap warehouse for lease, BOXIE24 might just have the solution for you.
This is how it works:
Select your Storage Space
Let us know the amount of storage space you need. But don't worry: We will always adjust your invoice to the actual amount of space you are using.

Delivery or Pick-Up
You can deliver your goods to our warehouse or we will arrange a pick-up of your items (on-demand storage).

Flexible storage Period
You can use the warehouse for rent as long as you would like. There is no cancellation period at BOXIE24.
With BOXIE24 it is very easy to get cheap warehouse space. Get in touch today: 844-337-7739.
Small Warehouse Space for Rent
As a business owner, you might be in need of a small warehouse for rent. This can be challenging to find because you either have to sign a long-term lease for commercial real estate to get good rates, or you need to pay a premium for a commercial storage unit. BOXIE24 offers a clever business storage solution to anyone in need of small warehouse space for the lowest price guaranteed.
Stay in full control with BOXIE24:
Flexible square footage from 10 to 3000 sq ft
You decide what size industrial space you need. We offer any size, and you can adjust the size whenever you want.
No long-term lease contract
You decide for how long you want to store. Your space can be canceled at any time, without a cancellation period.
Fair price
Our monthly lease ranges between $1.60 and $8.90 per square foot. Depending on the amount of small warehouse space you want to lease and for how long you want to lease it.
Our entire warehouse is equipped with a pallet racking system to ensure maximum efficiency.
If you're not sure what size you need, consider making use of our full-service storage service. We pick up your items and store them for you – and you will only pay for the industrial space your items require. At BOXIE24, our self-storage experts are well-versed in the specifics of what space you'll need to ensure you get the most out of your storage.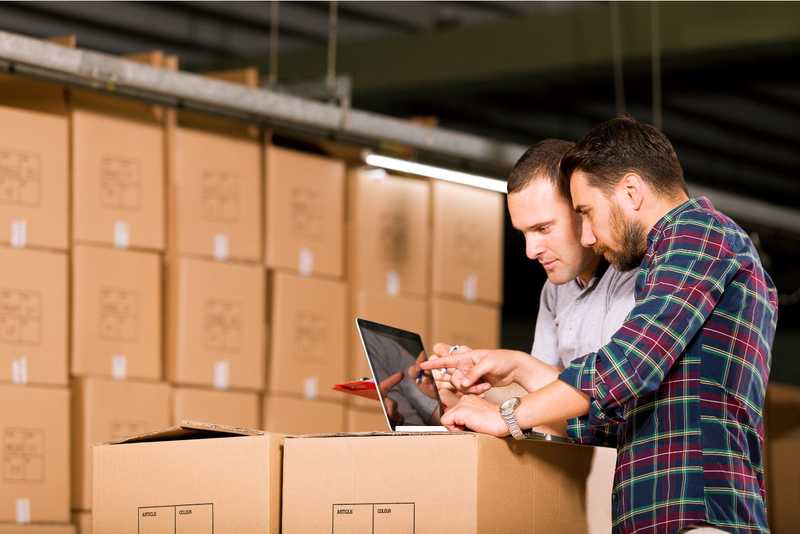 FAQs on Renting a Warehouse
How much does it cost to rent a warehouse?
At BOXIE24 the cost of renting a warehouse starts as low as $10 a week. Extra discounts apply for longer rental periods.
Where can I rent a warehouse near me?
BOXIE24 Storage is always near you: We pick up your items anywhere in the city, store your stuff and deliver it upon request within 24 hours.
How do I find a small warehouse for rent?
BOXIE24 offers any size warehouse space for rent, from 10 sq ft to 3000 sq ft. Give us a call to get your quote: 844-337-7739.
More information about renting storage at BOXIE24?
Want to know quickly if we serve your area with our storage services? And how quickly we can pick up your items? Check out our storage locations or give us a call (for the fastest answer).