BOXIE24 offers convenient & secure full-service storage with free pick-up.
We do the heavy lifting, offering a free pickup, and we deliver your items back to you once you need them back. Store your items with BOXIE24 – without ever leaving home, it's that convenient!
The concept of self storage is not a new one. People have been renting storage units to store their valuable items for decades. Though reasons for wanting storage may differ, everyone would much rather prefer it to be as seamless and as stress-free as possible.
Index
Full-service storage with BOXIE24: How it works
BOXIE24 Full-Service Storage NYC
BOXIE24 Full-Service Storage Miami 
Why choose Full-Service Storage over classic Self Storage?
Frequently asked questions on full-service storage
Classic Self Storage often presents problems such as:
Time: Deciding what to store on its own will take up some of your time. Then comes loading, transporting and unloading items into storage and possible multiple trips depending on how much items you need stored. You may then need time to rest your muscles, after all the heavy lifting, your body will certainly need it!

Damage: You have made a decision to keep your valuable items in storage for various reasons.  Incorrect storage techniques can cause damage to your items. Luckily, full-service storage offered by BOXIE24 is the solution to this!

Injuries: Whether it's lifting a heavy box down a flight of stairs or attempting to load a heavy piece of furniture into your car, there is a chance of injury happening as a result
As a market leader in full-service storage, BOXIE24 is ready to handle the pick-up, transport, storage and return of your items, taking all that weight off your shoulders. It doesn't get any easier than this. 
With our expertise and experience storing for thousands of customers in three countries, you can rest assured that your items are in the best possible hands.
Full-service storage with BOXIE24 gives you the convenience of self storage, but without all the hard work. Sounds like the perfect kind of storage, doesn't it? Check out our prices for self storage in New York City or self storage in Miami
Full-Service Storage with BOXIE24: How it works
We all need storage at one point or another, and convenience is definitely the deciding factor in many cases.
Check out how BOXIE24 can contribute in just 5 easy steps: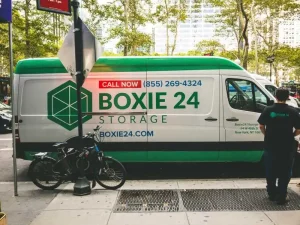 Reservation
Reserve one of our storage units near you and book in your preferred pick-up date Use this handy storage space calculator to determine the size storage unit you may need.

Moving boxes
Use your own boxes, or rent moving boxes from us. We'll deliver them right to your front door! If you would like to keep our boxes for use in the future, there is also an option to buy our durable and eco friendly boxes

Pick-up
Pack your boxes and arrange your pick-up date with the help of our friendly customer service team. We will narrow down the pick-up time to a certain time frame in which our moving professional can do the pick-up.

Storage
We'll be there on your pick-up day to move your items from your storage to ours! You can always rest assured that your items are treated with the utmost care.

Return
In the event that you need certain items from storage, we are able to do a partial return. All you have to do is get in touch with us and let us know which items you would like us to return back to you.
BOXIE24 Full-Service Storage NYC
BOXIE24 operates a full-service storage in NYC. We come and pick up your items anywhere in New York City as well as New Jersey and transport them to our modern storage facility.
When you rent a traditional storage unit, you do all the work yourself. You pack all your things using any old boxes you can find. For all the heavy pieces of furniture, you may have to solicit the help of a few friends or relatives. You then have to load them all into a truck or trailer and haul them to the storage facility somewhere in New York.
In addition to this obvious effort, there is also always the chance that you hurt yourself or damage your items. This can make self storage sometimes attractive but not worth the trouble. Well, BOXIE24 created the solution to this problem. We have full-service storage for you! This option gives you the benefits of storage, without the drawbacks, that is why customers are booking the full-service storage with BOXIE24. It is the most convenient way to store in NYC.

Want to know more? BOXIE24 has the best storage unit prices in NYC!
BOXIE24 Full-Service Storage Miami
BOXIE24 operates full-service storage in Miami as well. We will come and pick up your belongings anywhere in Miami and surrounding and transport them to our modern storage facility.
The difference between our full-service storage and traditional storage in Miami is that once you book a storage space with us, we are in charge from picking up your items to storing them in our facility and we deliver them back to you once you are ready for them.
When you choose to rent a traditional storage space, there is a lot more to it, then you may realise. There is the packing of your things, you may need to ask for assistance for your bigger items, you probably need to hire a moving company to help you move these items to the storage facility.
At BOXIE24 Miami there is no such struggle, we will come by your location and do all the heavy lifting and move them to our modern storage facility, while you sit back and relax, or catch up on your favorite series while we do the work for you!
Want to know more? BOXIE24 has the best storage unit prices in Miami!
Why choose Full-Service Storage over classic Self Storage?
Some people prefer to do things the old traditional way, without really understanding everything that needs to be done this way. Here at BOXIE24 we offer full-service storage so all your needs are met without all the hassles associated with self storage. Below are just some of the reasons why BOXIE24 is no doubt the best choice for you;
State of The Art storage facilities with top of the range security to keep your belongings safe. With 24 hour security, your valuables and assets are always protected.

Competitive prices for pick-ups, returns and storage. At BOXIE24 we trust our prices are the best prices on the market. We believe this so strongly, that  if you can find a better deal somewhere else, we will either match it or beat it! Making BOXIE24 the best option, always!

Packaging Materials as an option. We offer the option to rent or buy our durable eco-friendly moving boxes. All you have to do is reserve them online or contact us by phone or email and we will have the amount of boxes you need delivered to you when you need them.

Personalized customer service. Our expert agents are with you every step of the way, from your first quote to your final return! We pride ourselves in knowing our customers inside and out.

Personal and Business storage options. We provide all sizes of storage units, catering to everyone from the travelling student to businesses like Spotify and Starbucks.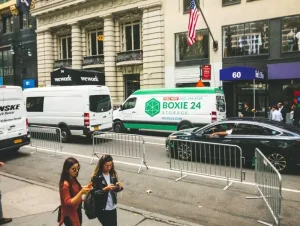 We offer a range of plans, specialized to your needs, that can help you declutter, downsize and get your life organized. Our experience and expertise are second to none, with our team serving thousands of customers across different countries.
Decided it's time to get your stuff back? No problem! All you have to do is give us a call to schedule a delivery, and we'll bring you your things back – usually within 24 hours.
BOXIE24 is dedicated to helping you free up space without throwing anything important out. Our full-service storage gives you the space you need and the convenience you deserve in self storage.
Frequently Asked Questions on Full-Service Storage
What is Full-Service Storage?
Full-service Storage takes care of the entire storing process for the customer: From pick-up to return. No more lifting of heavy items on and no need to rent a truck! Certain storage companies are even going the extra mile by offering packing as well as the delivery of packaging materials like boxes and storage blankets!
How much does Full-Service Storage cost?
Full-service Storage is often cheaper than regular self storage. With BOXIE24 the pick-up starts at $0 and the storage space starts at $16 a week.
Which company offers Full-Service Storage?
BOXIE24 offers full-service storage with competitive prices to go with it. Get your first pick-up and first month free.
More information about renting storage at BOXIE24?
Want to know quickly if we serve your area with our storage services? And how quickly we can pick up your items? Check out our storage locations or give us a call (for the fastest answer).