Never pay too muchWe only charge for the storage space you actually use
5-10% cheaperThan traditional storage space providers
Better service for your moneyWe pick up and deliver!
Rent self storage near you
We provide storage space in 100+ cities worldwide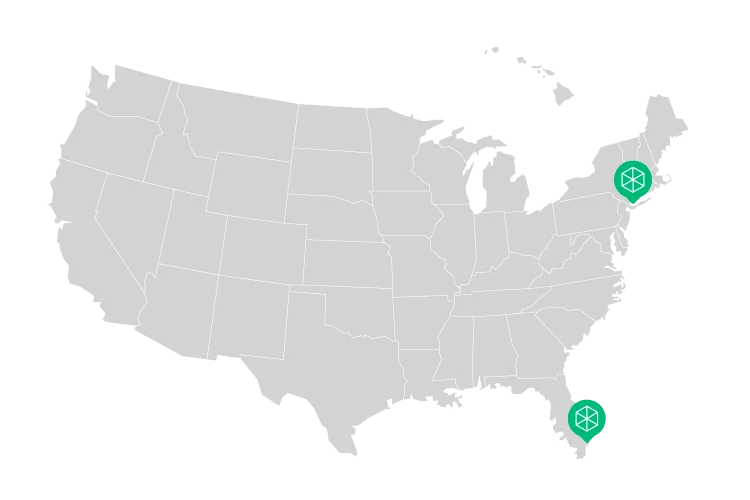 Best price guaranteed!
BOXIE24 pickup service
We offer a convenient pickup service for your belongings. After you have reserved a storage unit online, we will contact you to schedule a pickup date. Or call us directly - without an online reservation - to schedule everything right away!
| | |
| --- | --- |
| Storage unit size | Pickup costs |
| Up to 2'x5' ft | $0 |
| More than 2'x5' ft | Small fee, below cost price |
If you rent up to 2'x5' ft of storage, we will pick up your stuff for FREE from the first floor. Do you rent more storage space than 2'x5' ft or do you live on the second floor or higher? Then we'll charge you a small fee for our transport service, depending on the size of the unit and the floor you're on.
Our best offer for you!
Insurance plan

All storage plans come with our basic insurance package.

Return Delivery @

As soon as you need your items again, we will deliver them to your desired address throughout the city.

Basic insurance $0 / week Up to $0.65/lbs stored goods insured
Partial redelivery from $39 for up to 10 boxes or similar volume

Silver insurance $2.50/week Up to $1000 insurance value

Full redelivery from $99 e.g. for 2'x5' to the first floor

Gold insurance $3.75/week Up to $2000 insurance value

Request a free quote Give us a call!
Partial redelivery
Contact us to have some of your stored items conveniently returned to you at any time. We usually return them within 24 hours.
Full redelivery
At the end of your rental period, we will deliver everything back to you. You do not need to do it yourself or hire any external parties – we are happy to do it for you.
How much storage space do I need?
Compared to other providers, at BOXIE24 you only pay for the storage space you actually use. We offer flexible storage space from a small 2'x5' unit to a huge 100'x30' unit. Do you need more or less space than you have booked? We will adjust it for you free of charge!
Use our storage space calculator
Need help? Just give us a call!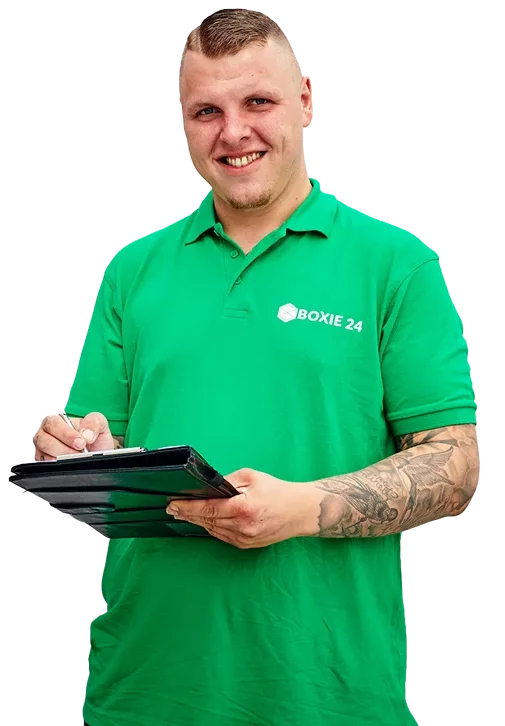 Available discounts for any storage period
| | | | |
| --- | --- | --- | --- |
| | < months | 3-12 months | > 12 months |
| Pick up service starts from $0 | | | |
| Discount | | 30% | 30% |
If you want to store for less than 3 months, our short-stay rates apply.
Benefits included in your rental fee
Pick up service from $0
Best price guarantee
Free basic insurance
No notice period
No deposit
Convenient return service
Prices for renting a storage unit
The rental price of storage space depends on the size of the unit, the rental period and the selected location. BOXIE24 is on average 5-10% cheaper than traditional self storage providers.
Because of our unique and innovative pickup & delivery storage concept, we can keep our pricing low and offer you the best price guarantee.
In the majority of cases we pick up your belongings for free, so you don't have to haul your own stuff around or rent a van.
On top of that, we don't ask for a down payment or a deposit fee. We also never charge for a reservation, an adjustment of your storage size or for a cancelation (unless you cancel on very short notice).
Best Value for Storing
At BOXIE24 you are guaranteed to pay the lowest price for your storage unit. Sometimes other storage providers may seem cheaper, but you will be confronted with hidden costs which are not included in the low rental price, such as transport costs, a deposit fee, insurance costs or a mandatory down payment.
At BOXIE24 we don't do that. We are always clear and honest about what you pay for renting storage space with us. Our rates are based on 3 factors: the size, the location and the rental period of your storage unit.
1. The size of your storage unit
Other storage providers often offer storage units with fixed sizes. At BOXIE24 we do this way smarter. We offer cheap storage space in ANY SIZE from a small 2'x5' unit to a huge 100'x30' unit. The rental fees can slightly differ per location.
Never pay for storage space you don't need
Because your belongings will be stored in a large, 24/7 secured and climate controlled warehouse – with no unauthorized access – we can efficiently fill up all the empty space. This way you never pay for unused space: you only pay for the exact space your belongings take up.
Size estimator for storage space
Use our convenient storage space calculator to determine how many square feet/meters of storage space you'll be needing. Did you happen to overestimate the storage space you need? Don't worry, we'll adjust it for you free of charge. At BOXIE24 you NEVER PAY FOR EMPTY SPACE!
2. The location of your storage unit
BOXIE24 offers storage locations in New York and Miami. The prices slightly vary per storage location due to local costs and considerations. Because we come to your home to pick up your belongings and deliver them back to you wherever and whenever you want, you don't need to have access to the storage facility.
However, if you would like to come by to bring your things yourself or to pick some items up, that's okay too. Just give us a call and we will arrange it – usually within 24 hours. We just need to schedule it to make sure that our warehouse manager isn't busy and he will be there to welcome and assist you.
3. The rental period of your storage unit
There is no limit to how long you can store with us. Renting your storage space with BOXIE24 means that you yourself decide for how long you want to rent it and thus, what the costs will be. We don't have a notice period, so you can cancel your storage rental at any time.
Most BOXIE24 customers rent for a minimum of 3 months, but if you want to rent for a shorter period, you can benefit from our flex rates (+15%). The minimum rental term at BOXIE24 is 1 month, but if you want your stuff back any time sooner, that's possible.
Book your storage unit free of charge
Reserving a storage unit with BOXIE24 is completely free of charge and without any obligations. Feel free to call us or use our online reservation form. After we have received your online reservation, we will send you a confirmation email. After this we will contact you within 24 hours to finalize your booking.
Included benefits in the rental price of the storage unit
The following benefits are included in the rental price of your storage unit:
Pickup service from $0 *
Best price guarantee
Free basic insurance
Convenient return service
Your belongings are kept clean, dry and secured
No notice period
No deposit required
* If you rent up to 2'x5'ft of storage space, we will pick up your belongings from the first floor for FREE. Are you renting a storage unit of a larger size or do you live on the second floor or higher? We charge a small fee only to cover the transportation costs.
Call us now and claim your offer!
Additional costs for renting storage space with pick-up & delivery
For storing your stuff you pay a one-time storage fee of $49 (Miami) and $75 (New York) in addition to the rental fee. A (partial) return of your belongings is always possible starting at $39. Check out our full price list here.
Need storage space urgently?
For urgent pick-ups on the same or next day we charge a one-time urgency fee of $9,95.
Short notice cancelation
In case you've booked a storage unit at BOXIE24 and your reservation has been confirmed by us (a pickup date has then been scheduled), and if for any reason you wish to cancel, there is no cancelation fee if you cancel more than 48 hours before the scheduled pickup date.
However, if you cancel within 48 hours of the pickup date, we are required to charge 50% of one month's rental fee. If you cancel within 24 hours, you will be charged 100% of one month's rental price.
Additional insurances to protect your stored goods
All our storage plans include FREE Basic coverage — or you can upgrade for added protection. BOXIE24 offers several additional insurances to protect your personal belongings, such as fire insurance. The insurance costs will be added to your monthly rental price.
Payment methods for renting storage space
You can select a payment method when booking your storage unit. We accept most credit cards (Mastercard, VISA, American Express) and bank transfers. We will automatically collect the rental fee from your bank account every 4 weeks (i.e. every 28 days) after the start of your storage period.
The costs for additional products and services (e.g. packing materials or our moving boxes service) will be charged with your first payment.
Call us to find out more about the costs of renting storage
Would you like to know more about the cost of storage or how much does it cost to rent storage space per sq ft? For instance to temporarily store your furniture or to store your business inventory?
Our customer service is available for you by phone and online from Monday till Friday from 9 am till 6 pm. We are happy to help you with all your questions about renting storage space with BOXIE24.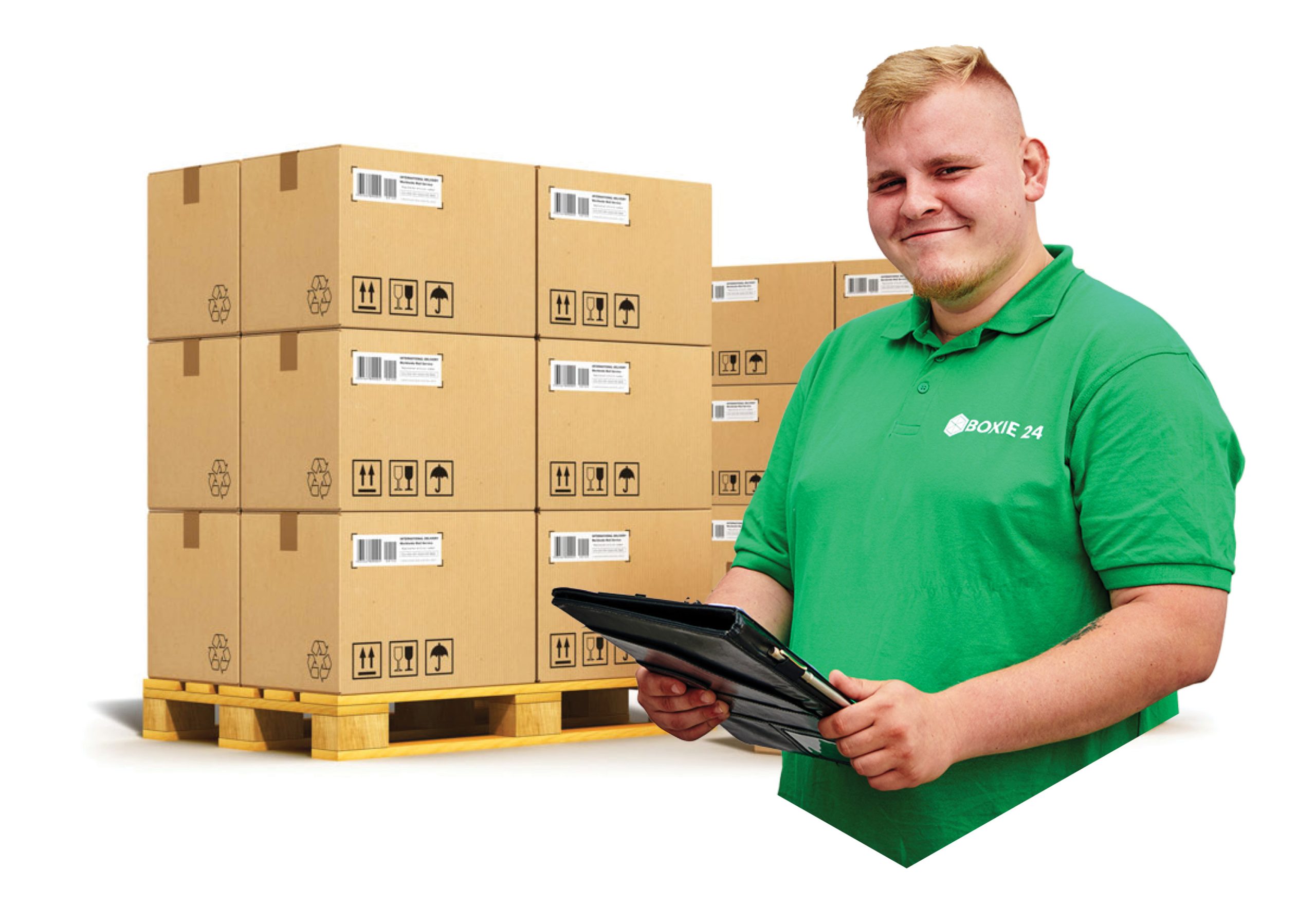 Storage prices in New York and Miami