How does
renting storage space with BOXIE24 work?
Renting storage space with BOXIE24 is very simple: choose your location, select the required storage space and we will take care of the rest! Due to our unique storage concept our prices are guaranteed to be cheaper than other storage providers.
Select your storage space
The size can always be changed. With us you never pay for empty space!
We pick up
We will pick up your stuff from $0, so you don't have to carry it around yourself.
We store it safely
Your valuables are safe in our storage facility with camera surveillance & climate control units.
We deliver
Whenever you want your items returned, we'll bring them back to you. Even if you only need a few items.
Rent self storage near you
We provide storage space in 100+ cities worldwide
Why you should choose BOXIE24
BOXIE24 Storage
Traditional Self Storage
"Because you want the best deal"

Only pay for the space you really need

Using less space? We adjust it for you for free, you don't have to do a thing.

Rent storage from $4 per week

"Because you don't want to carry around your stuff"

Transport service from $0

Return service within 24 hours

Partial return possible

Rent or buy environmentally friendly, sustainable moving boxes

"Because you want maximum flexibility"

Storage areas from 10 to 2,000 sq ft

No deposit

No notice period

Sometimes

Basic insurance included as standard

Personal customer service

Sometimes
I want to store my items with BOXIE24
We are there for you!
We served more than 60,000 satisfied customers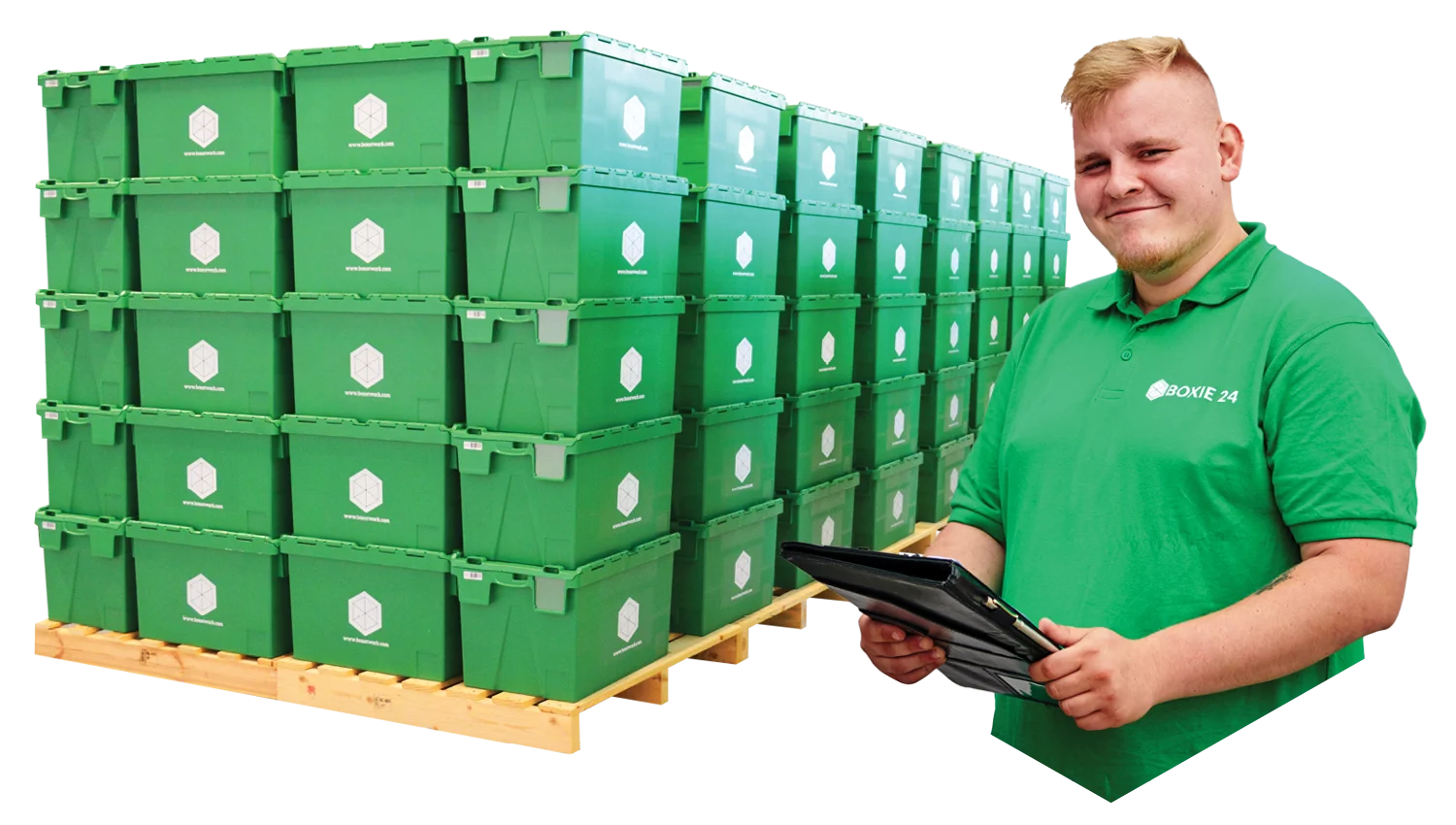 About BOXIE24
BOXIE24 is an innovative storage provider with more than 100 locations in the United States, Australia, Germany and the Netherlands. With our unique storage concept, we make Self Storage affordable and easy. We pick up your stuff, store it safely in a secured BOXIE24 warehouse and deliver it back whenever you want. It's always possible to access your belongings or to request a partial return. And with our lowest price guarantee you are assured of the best deal!
Any questions? Just give us a call!
Satisfied BOXIE24 Corporate Clients Request an offer!
FAQ
What everybody wants to know.
Show all
General Questions
Storage facility
Pick-up & Return Service
Reservations & Booking
Preparation & Packing
Moving Boxes
Payment & Invoices
My BOXIE24 Account
Why BOXIE24 Storage?
BOXIE24 makes the traditional self storage experience affordable & carefree. We offer a full-service storage experience: We pick-up, store & deliver. And due to our innovative storage model, we can offer 5-10% better prices than other self storage companies.
What are the advantages of on-demand storage vs. traditional self storage?
On-demand storage is the clever way of renting storage: you pay less and you will receive more service:
1) Pick-up of your items
2) Professional storage
3) Return on demand
4) Cheaper than traditional self storage
5) Storage size completely flexible based on your needs
Where can I use BOXIE24 storage?
We currently serve the following areas in the United States: New York City (Manhattan, Queens, Brooklyn, Staten Island, The Bronx), New Jersey and Miami.
What can I store?
At BOXIE24 you can store almost anything from furniture to bicycles and archives.However, there are a few exceptions:
1) Perishable items
2) Liquids
3) Hazardous materials
4) Illegal substances
5) For a complete list of prohibited items please see our Terms & Conditions [link]. If you are not sure, don't hesitate to contact us.
What is the minimum rental period at BOXIE24?
The minimum rental period for your storage space depends on the plan you have chosen. We typically work with a 3-month minimum, but also offer more flexible plans with a 2-month minimum. You can of course request the delivery of your items at any point before the end of your term, if all open invoices have been settled.
How much storage space do I need?
If you have difficulties figuring out your required storage space, our storage experts are happy to help you. Just give us a call. The following guidelines might help you estimate your storage space:
1) One-bedroom appartment: 5'x10' storage unit
2) Two-bedroom appartment: 5'x15' storage unit
3) Three-bedroom appartment: 10'x10' storage unit
Do I need to purchase additional insurance?
All of our customers are covered within our basic insurance. The basic insurance covers up to $0.65 per pound of stored goods. If you want to purchase additional insurance, you can choose one of our optional insurance packages.
Do I always have acces to the storage facility?
Yes, we pickup and deliver your items, typically within 24 hours. You can also make an appointment with us for self-delivery or self-pickup at our facility.
Can I visit the storage facility?
Since we haul everything for you, there is no need to visit a BOXIE24 facility. It is however possible to make an appointment with us for self-delivery or self-pickup.
Is the storage facility climate controlled?
Yes, all our storage facilities are climate controlled to ensure dry and safe storage - also for sensitive materials.
Is the storage facility secure?
Yes, our storage facilities are fully secured by the following means:
1) 24/7 camera surveillance
2) Alarm system
3) Smoke detectors
4) Access only for authorized personnel
Can I get my items back whenever I need them?
Yes, you can always get your items back. Usually, we can provide delivery within 24 hours. You can also make an appointment at our facility to come and pick up the items yourself.
Can I change the pickup or delivery date?
Yes. Just contact us and we will arrange a new date for your pickup or delivery free of charge. In case of late cancellations (48 hours before the appointment) we will have to charge a cancellation fee.
How can I request a (partial) return?
Contact us by phone or by using the contact form to request a full or partial return of your storage items. In case you only need some of your items, please provide us with a detailed description of the items.
Do I have to be present for a pick-up or delivery appointment?
Yes. You will receive a text message when our drivers are heading your way. In case you want another person to represent you, please provide us with their name and contact information before the appointment.
Can I deliver items to the storage facility myself?
Yes, that is possible. Please make an appointment with us for self-delivery.
Can I add items to my storage space?
Yes, you can add items to your storage space at any time. Just schedule an appointment with us and we will pick up and store the extra items for you. If it does not fit into your current storage plan, we will simply upgrade it for you. When you store less items again, your plan will be downgraded accordingly. You only pay for the storage space you actually use.
How will I know when the drivers arrive?
You will receive a text message from us, as soon as the drivers are on their way to you.
How much does storage cost at BOXIE24?
The rent depends on the city, the required storage space and the minimum storage period you have chosen. BOXIE24 handles a bestprice guarantee to make sure we can always offer you the best deal available for storage near you.
How can I make a reservation for a storage unit?
Select your city on our website, choose the (approximate) size of your storage unit and send us a non-binding reservation.
Do you charge for reservations?
No, a reservation is free of charge and non-binding. After you have made a reservation, a BOXIE24 representative will contact you and finalize the booking with you.
How do I change my reservation?
You can always edit the details of your reservation, for example the storage duration or the room size. Just contact us and we will sort it out for you.
How can I cancel my storage space?
Simply give us a call or send us a message and let us know your preferred delivery date. Your storage period will automatically end on the date of the delivery or at the end of the selected minimum storage period.
How do I need to prepare my items?
Please carefully read the packing guidelines that we have sent you with your booking confirmation and adhere to the following rules:
1) Use appropriate packing materials for your items
2) Pack everything in storage bins or cardboard boxes (no plastic bags!)
3) Pay attention to the weight of your boxes and items
4) Make sure mattresses and carpets are covered
5) No food and no hazardous goods
6) Prepare your goods ready for pick-up
How can I pack my items in a safe way?
Fragile items like glas, dishes, or similar should be packed piece by piece in bubble wrap or packing paper and put into secure boxes. If there is free space within these boxes, you can use newspaperr or towels to stuff it.
How can I store frequently used items in a clever way?
In order to easily find what you are looking for, mark all your boxes with numbers or names and and keep a detailed list of all items. That way you can simply tell us which box you need and we can quickly deliver it to you.
How can I save space?
Furniture takes up a lot of space and can be difficult to store. We advise you to take the furniture apart as much as possible. Connect single parts or pieces of furniture with tape to carryable units. Make sure you save screws and other small items in a bag and store the bag together with the furniture.
Why do mattresses and carpets need to be covered?
For hygienic reasons, we kindly request that all mattresses and carpets are stored in a sealed bag or wrapped in plastic. Our drivers are only allowed to pick up mattresses or carpets without a cover, if we package them for you in our warehouse.
What are the advantages of renting instead of buying moving boxes?
1) Cheap: Renting moving boxes is cheaper than buying them
2) Convenient: We deliver the boxes and pick them up again
3) Strong: Extremely durable boxes that won't rip, even when filled with heavy items
4) Protected: No more crushed or wet items
5) Secure: Easy to lock
6) Stackable: Stack empty boxes into each other and filled boxes on top of each other
7) Eco-Friendly: Life cycle of at least 500 moves
How can I rent moving boxes?
Renting moving boxes at BOXIE24 is very simple:
1) Order the desired amount of moving boxes online
2) We deliver the boxes free of charge
3) We will pick up the empty boxes after your move
What makes the BOXIE24 moving boxes eco-friendly?
Our green boxes are made from recycled plastic and can be used at least 500 times. Rather than throwing them away after using them once (like traditional cardboard moving boxes), we clean them and send them to the next customer.
What are the dimensions of the moving boxes?
Our boxes have a measurement of 14.57" x 23.62" x 15.75"' (w x l x h).
Can the moving boxes be moved and sealed?
Yes, our boxes have a plastic lid which can be locked with tie wraps or your own lock.
Do you deliver the moving boxes?
Yes, BOXIE24 delivers the moving boxes and picks them up at your new address after the move.
Can I extend the rental period of my moving boxes?
Yes, you can extend the rental period of your moving boxes on a weekly basis.
How is billing handled?
During the booking process you can select your preferred payment method. We will then charge you for your storage space on a 28-day basis. Your first payment is due the day you start storing with us. Additional products and services (e.g. pick-up fee or moving boxes) will be added to your first invoice.
Do you charge per month or per week?
We charge your payment method every 4 weeks (i.e. every 28 days) after your move-in date.
Which payment methods are accepted?
We accept all major credit cards (MasterCard, Visa, American Express) and bank transfers.
Has my payment method been accepted?
Please log in to your online account and check the status of your payment method.
How can I change my payment method?
Please log in to your online account and edit the payment method on file.
How can I view and download my invoices?
Please log in to your online account. This is where you can view and download all your invoices.
I can't login with the One-time password
After you have entered your e-mail address in the login screen you will receive an e-mail with a One-time-password. In some cases this can take several minutes. Please do not close the window and do not request the password again. As soon as you have received the e-mail with the password, you can enter it and login.
Any questions? Call us!
Storage Space Near Me
There's no shortage of storage facilities these days, that's for sure! This isn't to say, however, that one is like the next. BOXIE24 stands out when it comes to your traditional storage.
The team at BOXIE24 takes all the stress away from you when you need storage space, no matter what situation you find yourself in requiring extra storage.
In all our lives we will each need storage space near to yourself at some point. This can be due to many reasons, life events, or just the need to rid yourself of all your extra things at home you do not need for the time being. There are so many different storage spaces available to us that you will feel overwhelmed with choice. Be sure to choose the right full-service storage facility for your needs!
Storage for consumers and businesses
Whether you're moving from one house to another, or you're looking for a commercial storage solution, it's important you ask the right questions. This way you can be sure that your things are safe and secure while with the storage facility of your choosing.
Below are a few guidelines to base your storage space rental decision on.
Storage Space in Your Neighborhood
When looking at the different scenarios and whether you want a storage near you, or further out you need to assess what your needs are. Do you want to drive out every time to pick something up from a cheaper storage facility? You need to take into account renting a car or transport costs as well as traffic.
You could consider renting a storage space that is near you, but then if you are in New York City the rentals for storage space can set you back quite some dollars. With a full-service storage company such as BOXIE24 you could leave all the stress and worries of storing to us!
You wouldn't even have to leave the comfort of your house and with unbeatable pricing, storing with BOXIE24 is a no-brainer!
Top 8 advantages when you store with BOXIE24:
First month free
We beat any price and or quote!
Amazing student discounts!
Discounts for long term and business storage
We pick up your items, then return them whenever you want, normally within 24 hours
Free basic insurance
Hassle & stress free storage, without even having to leave your home!
Storage in fully secure & modern climate-controlled warehouses
Storage Space Security
You may not know much about security systems yourself, but if the employees know the answer to this question, it lets you know they definitely do have them in place.
You'll have peace of mind knowing your things are in a secure self storage in New York and self storage in Miami!
When evaluating your decision on which storage units near you to store your beloved possessions in, you should take into account:
Is the facility patrolled?
Does each building have a smoke detector?
Does the building have a sprinkler system?
Does the facility have an alarm system & security cameras?
Is the area well lit?
Who has access to the storage facility?
You need to decide from here if you want to store with the company and ask more questions, any company you store with should be able to answer all your questions clearly and concisely.
Storage Space Access
Some storage facilities allow unrestricted access, and some don't. There are pros and cons to both types of storage, so you'll have to decide which works best for you.
Unrestricted access to your storage unit allows you to put things in and take things out of your unit anytime you want. While convenient, it's not quite as secure with many unknown people coming and going at all times.
Restricted public access might be a little less convenient, but it's more secure and you can have peace of mind knowing your items are extra secure. Furthermore, it's also less work on your part because the facility usually picks up and delivers your things for free!
Some of these storage facilities allow month-to-month contracts; however, others offer significant discounts for paying upfront or paying annually. Some even have incentives for referring new customers to them. BOXIE24 is open to tailor-making storage packages to your needs.
How to Choose a Storage Space
You can check online and with the Better Business Bureau (BBB) for customer reviews on the storage company. It's also a good idea to ask if they've had any break-ins or vandalism and how it occurred. If the company corrected any security issues after an incident, you know they are serious about keeping your things safe.
When considering a storage unit in Brooklyn, it's important to know as much information as possible before placing your things there. Don't be afraid to ask questions, and if the answers you get make you feel uneasy or something doesn't feel right, move on to another facility. It's always better to be safe than sorry when storing your things.
Also good to know: does the company offer additional services, such as moving boxes to buy or rent?
BOXIE24 offers a stress-free, affordable and comfortable self-storage in New York. Why stress-free? Because we pick up your items at your doorstep and re-deliver them whenever you need us to. Check out our various storage units in NYC.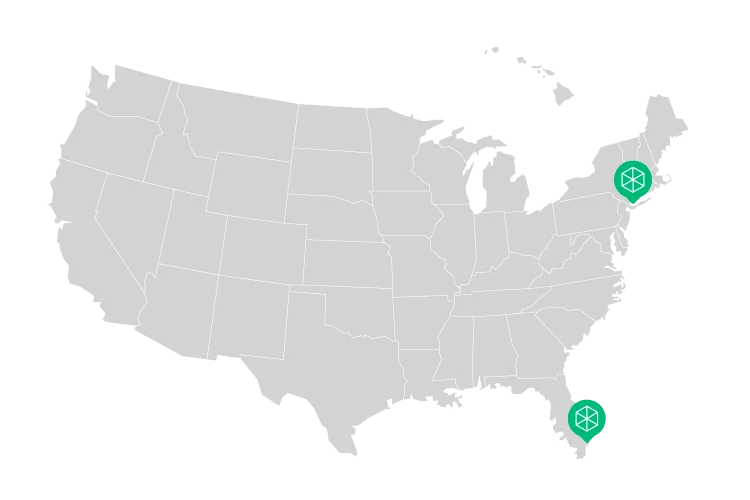 Best price guaranteed!
Storage space throughout New York