As we all know, homes and apartments get more and more expensive every year, especially in New York. In fact, the average rent for a one-bedroom apartment in NYC is $2.95 per month!
This can severely limit the size of a home or apartment one can afford. So there's a good chance your space is not as large as you'd like it to be – and that you don't have room to comfortably fit all your belongings.
You may have already considered renting storage units. We are here to tell you that renting storage units in NYC with BOXIE24 is without a doubt the solution.  In fact, renting a storage unit with BOXIE24 can come out to a fraction of the cost of what the other self-storage companies in NYC are offering.
Give us a call to reserve your on demand storage at BOXIE24: 332-240-4830.

Renting Storage Units in NYC: 4 Easy Steps
Determine how big your storage unit in NYC needs to be
Unsure how to figure this out? Call us at 332-240-4830 and somebody from our team will help you out. Also, check out our storage calculator here to guide you!

Schedule a pickup
In most cases, the first pick up is completely free. Just have your items packed up and ready to go and we will come get them!

Let us store for you
Once your items are picked up, we will store them in our clean, temperature-controlled, secure self storage in New York. We take great care of your items to ensure everything remains the way you gave it to us!

Ready for your stuff to be brought back?
Just call us at 332-240-4830 and we can have everything back to you — typically within 24 hours!
The New York real estate market is booming, as illustrated by places such as Hudson Yards, Manhattan West, One Vanderbilt, Domino Sugar Factory and One World Trade Center, which are all witnessing unprecedented amounts of construction. All this growth certainly increases the demand for space and storage units in NYC as well as storage units in Brooklyn and other boroughs.
On-demand Storage NYC
The idea of having more space to keep all that stuff that keeps getting in the way is extremely attractive to most. Who doesn't want a decluttered home, especially in New York? However, when it comes to actually facing up to the challenge of sorting, packing and storing items, most people cannot find the will, time or space to get around to it.
The thought of facing up to the accumulated clutter of years of living in a New York home can often feel like an impossible task. Luckily, BOXIE24 is ready to step in to help you. We offer affordable and carefree on-demand storage in NYC.
We offer on-demand storage in the following areas in New York, NY and New Jersey:
Brooklyn
Manhattan
Staten Island
The Bronx
Queens
New Jersey
No matter where you live: We come and pick up your items. BOXIE24, like self storage in New York – but better!
​​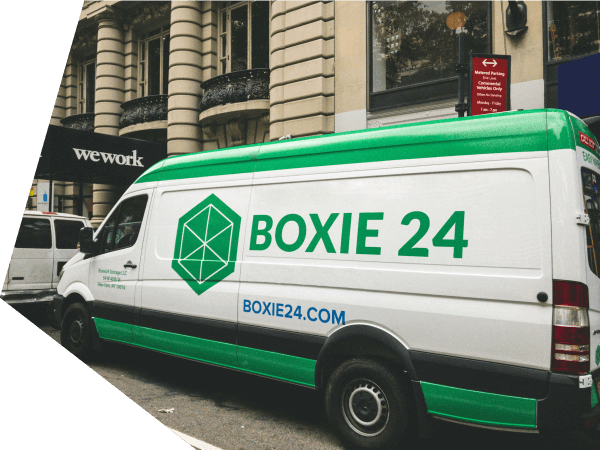 Renting storage units in NYC on a small budget
Renting storage units in NYC can be costly, but with BOXIE24 you only pay for what you use. You will never pay for more space than you need, even if you reserved a larger space. If you need less than what you originally estimated, that's all you'll pay for.
We offer fair and transparent pricing and always do our best to get you the lowest price possible. In addition to this, there are never hidden fees. This means, no administrative fees, no rate increases, and no facility fees.
Top 5 Reasons for Renting Storage units in NYC with BOXIE24
Free pickup – Whether you are looking for storage units in The Bronx or Brooklyn, the pickup is almost always free

We're local – Our team of professionals will come and pick your items up to save you space which may equate to money, especially for your business!

Only pay for the space you need – As mentioned previously, there are never any overages so you can use that money you saved on a sandwich at Katz's! (205 E Houston St, New York, NY 10002)

Flexible size and duration – We do not lock you into a contract and are flexible with your space requirement. This comes in handy when you have to store for the summer when school is out or you leave NYC for the summer.

Discounts for long-term storage – When looking to store for a long period of time, we can offer you a long-term storage discount. Call us at 332-240-4830 to learn more!
Storage Units in NYC with Pickup Service
BOXIE24 in NYC is a full-service storage facility. This means we offer free pickup and delivery in most areas of the city. When you don't have the time it takes to pack, transport your things and fill your storage unit, we're on hand to do all the hard work for you.
With our free pickup and delivery storage in NYC, all you have to do is pack your things for storage. To help you do this properly, we've put together a few self storage tips to follow that ensure your things make it through transport and storage without any damage.
When you've finished packing, simply give us a call to schedule a pickup. We'll load your belongings, transport them to our facility and organize them neatly in your storage unit.
Online inventory management app
You may keep track of your things at any time by logging into our free online inventory management app.
Should you need your things back at any time, just give us a call to schedule a delivery. Let us know what you want back – it can be all of your possessions or just a few – and we'll bring them to you. Our deliveries usually happen within 24 hours or less of your call.
If you would like to free up space in your home or business, give BOXIE24 a call. We have several self storage options in New York to meet your needs. You can check availability in your area by entering your zip code in the box provided, or you can speak with a storage specialist to reserve a storage unit today.
University Students and Storage Units in NYC
If you are a university student that is living in the dorms in NYC, you would most likely need somewhere to store your belongings over the summer when you move out of the dorms and go back home. Many students take their belongings home for the summer and bring them back in the Fall semester. If you live out of state or are an international student, this can be hard. You will probably need some storage space near you to store your belongings for the summer. BOXIE24 offers our valued student customers 10% off their monthly storage space rental.
When storing with us at BOXIE24 you really do not need to stress about packing, logistics and lifting anything heavy. If you are out of state, country or just cannot pack up your dorms, let us know and we can offer you a packing servic! We collect and/or pack your belongings, take them to our climate controlled warehouse that is monitored 24/7 via camera surveillance and alarm systems, then whenever you want anything back give us a call and we can return partial or your whole storage space, normally within 24 hours.
When storing with us at BOXIE24 you receive the following advantages:
First month free

We beat any price and or quote!

10% discount if you are a Student

Discounts for long term storage.

We pick-up your items, then return them whenever you want, normally within 24 hours.

Free basic insurance.

Hassle & stress free storage, without even having to leave your home!

Storage in fully secure & modern climate controlled warehouses.
Storage Units in Manhattan
If you think about New York, chances are you're thinking about Manhattan. Manhattan serves as the city's economic and administrative center, cultural core and historic birthplace. Manhattan is so closely connected with ideas of what New York is that it is known by a simple two-word nickname, The City. It plays host to the headquarters of the United Nations, both of the world's largest stock exchanges, numerous world-renowned media outlets and the homes of some of America's most recognizable faces.
Tourist attractions in Manhattan
Many of New York's most recognizable sights are in Manhattan, including three of the world's most visited tourist attractions, Times Square, Grand Central Station and Central Park.
In addition, the borough contains the Empire State Building and Chrysler Building, the Stonewall Inn and City Hall. Between Canal Street and Bayard Street, New York City, NY 10013 visitors can find Chinatown, home to the largest Chinese population in the Western Hemisphere. The borough has many of New York's finest dining options with great food costing from $1 to $100.
Some famous names to find in Manhattan include Katz's Deli (205 E Houston St, New York, NY 10002), Red Peony (24 W 56th St, New York City, NY 10019-3804) and the NoMad restaurant (1170 Broadway Broadway and 28th Street, New York City, NY 10001-7507).
This all combines to make Manhattan one of the most desirable places to live. This fact is reflected in the cost of housing. Manhattan has the highest property prices in the world, with an average sqft of Manhattan residential property costing $1600. Can't decide if your stuff can fit into the Manhattan lifestyle you want? That's where BOXIE24 comes in.
Storage with affordable pick up service in Manhattan
As a full service storage company we are happy to pick-up, store, and return to any address in Manhattan or around New York. With affordable prices for storing everything a business or individual may need to put on ice to free up space, we're the perfect accompaniment to a busy Manhattan life.
What's more, we'll handle all of the stress of moving and storing in our temperature controlled, CCTV monitored warehouse meaning you have extra time to wander around Central Park, grab a slice or a bagel and take in the true Manhattan experience!
Storage Units in Brooklyn
Similar to Manhattan, storage units near Brooklyn are something that are also sought after. As it stands now, there are not many facilities currently, and given the subway and public transportation situation, many residents do not have the means to make it to the self storage facilities in their neighborhood, if there is one.
Places like Williamsburg and Greenpoint do not have many options and that's why BOXIE24 is a perfect solution. Anywhere from Domino Park (300 Kent Ave, Brooklyn, NY 11249) to Canarsie, we can go!
Within New York there are 5 Boroughs and each borough has many different attractions, things to do and sights to see. In Brooklyn which can be classified as the biggest and most populated borough, there is ample to see and do here, it doesn't matter if you are just visiting or live here, you will not be bored!
Things to do in Brooklyn
Brooklyn is separated from Manhattan by the East River and has 3 bridges leading into Manhattan such as the Brooklyn Bridge, one car tunnel and rapid transit tubes which makes getting around very easy and accessible to most New Yorkers.
While you are in Brooklyn try and catch a game at the Barclays Center which is an indoor sports arena and entertainment venue. The Barclays Center is the home of the Brooklyn Nets, a professional basketball team.
After your experience at the Barclays Center, you need to make your way over to DeKalb Market Hall (445 Albee Square W, Dekalb Ave, Downtown Brooklyn). This Market has over 50 food vendors, with a few vendors appearing highly rated on best food lists. They have vendors such as Katz's, Hard Times Sundaes, Ample Hills, Arepa Lady and Bunker just to name a few.
Head on over and experience the vast culinary offerings of the DeKalb food market while experiencing Brooklyn like a local!
Storage Units in Queens
Renting storage units in Queens can be hectic. It is a very large borough, and between traffic and the distance you might have to drive to get to a self storage facility, it could certainly be a very time-consuming process. Considering everybody on Long Island passes through Queens to get home or people flying out of the city will likely leave from JFK or LaGuardia, this just further causes a transportation nightmare in the area. Couple that with the fact that the subways do not run to all areas of Queens, it is very challenging to access self-storage. Let BOXIE24 handle the traffic so you can spend more time in Astoria Park!
Storage Units in the Bronx
Last but not least, renting storage units in the Bronx can be a difficult task. Similar to Queens, many commuters leaving the city must pass through the Bronx to get home, whether they live in Westchester or further upstate. Save yourself the headache and let BOXIE24 come to you. Call us today at 332-240-4830 and let us assist you with booking a storage facility now!
Overall, the message here is simple. Regardless of where you live in the city, or even if you live outside the city on Long Island or in Westchester, give us a call and learn more about how we can help you or your business with any storage needs you might have. Call or email us at any time to get in touch with a friendly representative who wants to help you save some space!
FAQs on Storage Units NYC
How much storage space do I need?
This rule of thumb can serve you as a guide: You need about 10-12% of your living space as storage space. You are also welcome to call us and tell us the items you want to store in your Self Storage in New York!  Our experts can then give you an estimation of the storage size based on this information. Alternatively, you can also use our storage space calculator.
Do I always have access to Self Storage New York?
Yes, at BOXIE24 you have access to your stored items at any time. We deliver all or part of your stored goods within 24 – 48 hours, to all parts of NYC. Often a return delivery can be made on the same day – just give us a call. There is no access into our facility for increased security.
Is there moving material for sale in NYC?
Yes, at BOXIE24 you can buy moving material such as packing blankets and bubble wrap. You can also rent our practical moving boxes. Please call us to check the availability of packing material.
Popular Neighborhoods in NYC
More information about renting storage at BOXIE24?
Want to know quickly if we serve your area with our storage services? And how quickly we can pick up your items? Check out our storage locations or give us a call (for the fastest answer).