Moving boxes are a must-have item when planning a move out or a renovation. They're designed to keep household goods safe while in transit and minimize the risk of your items being lost or damaged. But is it better to rent or buy moving boxes?
Well, you don't need to google it, because BOXIE24 has the answer for you! We provide a convenient and cost-effective way to move your office or home by utilizing or friendly moving team and using our durable plastic boxes. Not only are they eco-friendly, they are reusable as well.
Skip the cardboard and rent or buy moving boxes today and we'll drop them off to you when you're ready!
Index
The classic approach: Buy cardboard moving boxes
Rent or buy moving boxes from BOXIE24
How to rent moving boxes at BOXIE24
Choose moving boxes for your needs
Pack moving boxes the right way
BOXIE24's Eco-Friendly Tips for Moving and Storage
5 Best Moving Tips for Packing
Frequently asked questions about moving boxes
The Classic Approach: Buy Cardboard Moving Boxes
Cardboard boxes have become a popular choice when it comes to packing and storing because they are cheap and convenient. You can typically buy them from The Home Depot store or UPS, and even Walmart has moving boxes. The problem is that cardboard boxes will be thrown away after as little as one use. In addition, your belongings inside the cardboard box could be damaged due to lack of sturdiness of the box or even by water damage which could lead to mold.
Check out our list of pros and cons for cardboard boxes vs. BOXIE24 moving boxes and see which one is better for you when it comes to packaging belongings.
Pros: 
Light: Cardboard boxes are very lightweight, therefore it's easier to carry.

Affordable: They are relatively cheap compared to other box alternatives, and typically, you could find them at a nearby store.

Sizes: Cardboard boxes are available in many sizes and shapes; allowing for you to select the right size for your needs.
Cons:
Low Quality: They are not as durable as the plastic box and are prone to tearing. If you have some heavy items to box up, the cardboard box may not be your ideal choice.

Non-reusable: Cardboard boxes are generally used for short-term purposes, and due to their durability, you can typically only use them a few times at most. Because they will get thrown away after usage, this may not be an ideal long-term investment as they have no value beyond their single-use. This is also not great for the environment as it creates more waste.

Not Waterproof: Cardboard is not water-resistant, once it touches the water, it wouldn't be usable anymore.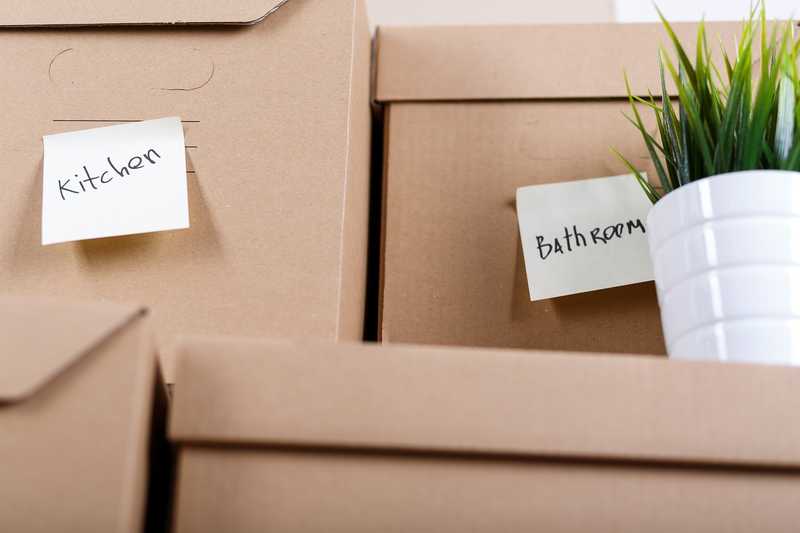 Rent or Buy Moving Boxes From BOXIE24
BOXIE24 has plastic containers that would do a better job than cardboard does with an even higher price-performance ratio!
Pros:
Reusable: Plastic boxes are reusable due to their durability. So you don't have to buy moving boxes for every time you are moving.

Stackable: The boxes are stackable, which saves a lot of space before the boxes are ready to be packed.

Waterproof: Plastic boxes are water-resistant, so you don't need to be afraid if something might happen to spill nearby.

Delivery Service: With BOXIE24, to rent or buy moving boxes is even easier, because no matter if you want to rent or buy, we will deliver the boxes to your door for free, and if you just want to rent, we will come back to pick it up again when you don't need it anymore!

Secure Closure: If you use plastic boxes you don't need to purchase tape or box cutters because they can be secured with zip-ties we provide you. This also further ensures the security of your items.
Cons:
Higher Investment: Unlike cardboard boxes, you probably won't be storing any plastic boxes for a cheap price. The cost disparity between cardboard boxes and plastic boxes can be significant mostly because they are relatively indestructible and will last you for a much longer time.

Bulkier than cardboard: Even though they're stackable, you still need a little space to store the plastic boxes   Before they are ready for use.
As previously mentioned, most traditional moving companies offer cardboard boxes for containers. What makes BOXIE24 unique, we include our rentable "green" plastic boxes for those who are environmentally conscious and looking to contribute less to paper waste. Or you can just buy moving boxes directly with us.
Overall, plastic boxes are a better long-term investment compared to cardboard boxes they are reusable, water-resistant, and stackable. With BOXIE24, to rent our buy moving boxes is more convenient than buying cardboard boxes because we have a free delivery service that will go anywhere you need us to!
How to Rent Moving Boxes at BOXIE24
If you are moving or planning to place some belongings in storage, you need strong moving boxes. Instead of wasting gas and precious time hunting all over town for cardboard boxes, give us a call.
BOXIE24 has quality moving boxes and moving supplies to meet your needs. Made of high quality, eco-friendly materials, our boxes stack easily for organization and space-saving.
They are large enough to accommodate many items and durable enough to be used again and again. Ideal for both residential and business moving and storage, our moving boxes save you time and money.
With BOXIE24, renting or buying moving boxes is very easy.
Simply follow the 4 steps below and your boxes will be at your door soon!
Contact one of our storage experts at us.info@boxie24.com or 844-337-7739 and let us schedule a free delivery.

Tell us if you want to rent or to buy moving boxes and how many you need.

We will deliver your boxes directly where you want them to be, ASAP!

If you choose to rent them, we will come and pick them up again once you don't need them anymore. We are also flexible regarding the renting time, you just need to notify us if you need them for a longer period, and you will be all set!
We also offer several self storage solutions that you can use in addition to your moving boxes. If you want to learn more, check out our self storage in New York with storage units in Brooklyn and storage units in NYC.

Choose Moving Boxes For Your Needs
Choosing the right amount before you buy moving boxes is important because you definitely don't want to waste money on stuff you wouldn't use. However, most people wouldn't have an idea of how many boxes they will need. Here are some helpful tips that would help you determine your needs.
Living Space – You could probably determine your need according to your living space. For every room in your home, you will likely need 5 – 10 boxes.
Number of People – Number of people is also a factor in deciding how many boxes you are going to need. For each adult resident, approximately 20-25 moving boxes should be ordered, and approximately 10 moving boxes per baby or toddler should be planned.
And if you end up renting more boxes than you anticipated needing, not to worry because we do not charge for anything you do not use!
Pack Moving Boxes the right way
Are you curious about what is the best way to fill your moving boxes to ensure optimum transport and that all items remain intact? The answer is obvious, when you are packing your boxes, you might want to prepare some useful accessories that will save you a lot of time in the future.
Packing material – when packing, you should use sufficient packing material to ensure the items in the boxes do not break easily, especially for items that are extremely fragile. Consider using packing peanuts, bubble wrap, newspaper, etc.
Packing order – make sure you always place heavier items on the bottom and lighter items on the top. This will ensure your goods are not crushed.
Soft items – soft items like towels, suits, dresses, and other sensitive wardrobes can simply be set into the clothes boxes. Towels can even be used as another method for packing.
Books – when you get ready to pack your books, try to keep books that are shelved together in the same boxes. If you have any space in between your books, consider filling them in with another item that you have to pack.
Labeling – you should label each box with a sticker or a written label laying out the contents of each box. This will save you a lot of time in the future when you are looking for a specific item.
Overall, packing your boxes the right way will not only save your time and money (to prevent items from breaking), it will also help you organize your stuff better so when you are ready to unpack, you know where everything is. Simply follow the tips above and it will shorten your packing time and make your life easier!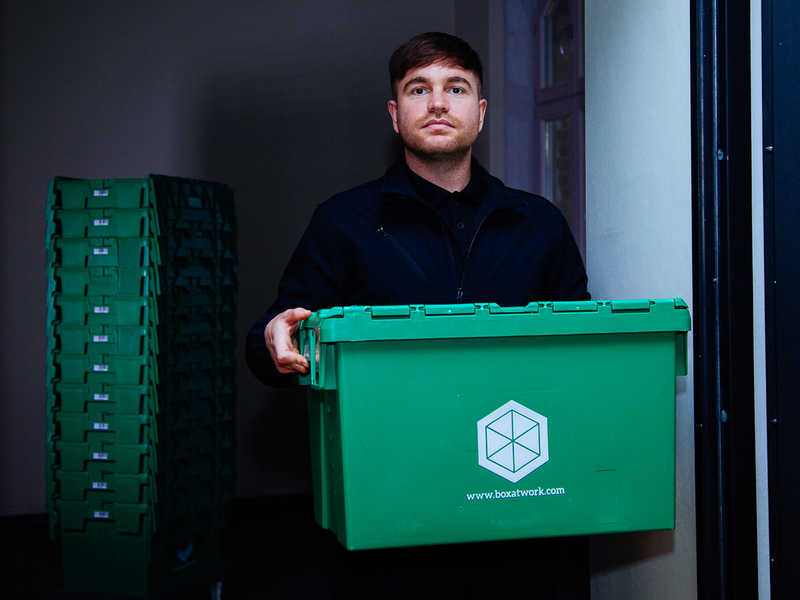 Top 7 Moving Tips
With many years' experience in the self storage industry, BOXIE24 Storage has extensive knowledge when it comes to packing things right for moving and storage. We offer a wide range of storage units for both residential and business purposes, as well as moving supplies and expert advice for successful packing and moving.
BOXIE24 has the following 7 best moving tips to offer to make moving and storing your things as easy as possible:
Keep inventory of your belongings. It doesn't matter if you're packing to move your belongings or to store them, you should always know what's in which box. It's easy to forget what you've put in a specific box, but if you label everything appropriately and keep a running inventory of what you've packed, you'll always know where everything is at a glance. To make this task easier for our customers, we offer an online inventory management tool.

Pack your unit wisely. Most people fail to plan when it comes to packing a storage unit. There's a right way and a wrong way, so consider the advice below when loading boxes into a storage unit.

Stack boxes along the wall rather than in the middle of the floor. This makes for sturdier stacks and allows you access to the back of your unit.

Pack frequently used items near the front of your unit.

Stack like-sized boxes on top of each other to maximize space and to create safer stacks.

Place heavier boxes at the bottom of the stack.

Keep a step stool handy to make reaching top boxes safer and easier.

Pack smaller items inside larger ones. If you're storing or moving large furniture items such as a refrigerator, you can maximize space by placing smaller items inside instead of packing them into boxes.

Consider airflow when stacking boxes. Leave a few inches of space between stacks of boxes so the air can flow easily around it. This helps ward off humidity and keeps your belongings drier.

Perishables and items with strong fumes are not allowed.

Use the proper equipment for heavy lifting. BOXIE24 has complementary dollies to assist you in moving heavy items.

Choose the right moving company, that offers the best balance between price and service.
BOXIE24's Eco-Friendly Tips for Moving and Storage
Here at BOXIE24, we feel very strongly about doing our part to save the planet. That's why we offer moving boxes for rent, as well as the following tips for packing your things the eco-friendly way.
Use eco-friendly moving boxes. Our moving boxes for rent are made of 100 percent recyclable material. They are much bigger and stronger than traditional cardboard boxes, which means you use fewer boxes and create less waste as you pack.

Use eco-friendly wrapping paper. Many people opt to buy brown wrapping paper when packing their delicate possessions, but newspaper does the job just as well, and it helps save the planet when you reuse.

Use eco-friendly string to seal boxes. Packing tape takes a lot of energy to make, and it's rarely biodegradable. Use string to close boxes you open frequently rather than packing tape to save money and the planet.
5 Best Moving Tips for Packing
When it comes to packing, doing it right makes all the difference in the world. Our storage experts recommend the following five tips for packing.
Use quality moving supplies. Many people make the mistake of using cheap moving boxes and other inappropriate methods to pack their things for moving and storage.
You may think you're saving money by acquiring used cardboard boxes from the local supermarket, but in the long run, you could be causing more harm than good when the boxes collapse on themselves or plastic bags rip. Your best bet is to use quality moving supplies right from the start.
Don't overfill boxes.

Label each box with its contents.

Take large items apart, if possible. You can maximize the space inside your storage unit by disassembling large items such as tables and other furnishings.

Place covers over furniture to keep them clean.
It doesn't matter how far you're moving or how long you're storing your things, how you pack them can protect them from damage. BOXIE24 has a wide range of moving supplies, and our specialists can assist you in making sure you're packing your things right.
Contact us to learn more about packing and storage with BOXIE24 (see our offer for self storage in New York).
Frequently asked questions about moving boxes
Can the moving boxes be sealed?
Yes, you can also seal our convenient moving boxes so that only you have access to the contents.
Can I book the moving boxes online?
Yes, you can easily book the moving boxes online at BOXIE24. Moreover, we will pick up the boxes from you and deliver it back, which is why you don't even have to leave your own four walls for your storage space!
Can the moving boxes be labeled or marked?
Yes, there is a labeling field attached. You can even use the attached barcodes to build a system for keeping track of your boxes.
What are the dimensions of the moving boxes?
Our moving boxes have a base area of 60 x 37 cm and are 40 cm high. The boxes are the ideal size to store 10 Leitz folders, for example. If you want to know how much space is needed for a certain amount of moving boxes, you can use our storage space calculator.
More information about renting storage at BOXIE24?
Want to know quickly if we serve your area with our storage services? And how quickly we can pick up your items? Check out our storage locations or give us a call (for the fastest answer).