If you are reading this article, you are probably searching for 'moving companies near me', so you must have some kind of concerns about moving your home or office. You might want to find out what is the best way to move, or what should you prepare before the move. Well, a moving company would be an ideal solution for your concerns. Planning a move can be overwhelming and stressful at times, but with a moving company, everything will be much simpler. If you search for moving companies online, quite a few companies will come up, such as Moving Pods, 2 Men and a Truck, or even U-Haul. 
Most companies will have their services listed on their website, such as their service range and roughly how much it will cost. This is a great place to get background information on the company to know off the bat if they'll be a good fit for you. 
Professional and experienced movers understand the best ways to handle your belongings to keep them protected and they also have all the necessary moving equipment and vehicles that you might not have, such as a truck, gloves, tape, moving blankets, hand trucks, etc. On the other hand, using a moving company means you are letting someone you hardly know into your home where they could get a personal look at your stuff. Since this is more of a safety problem, it's important for you to do research on the moving company beforehand. 
Research moving companies
There are many things to consider when choosing a moving company as there are a lot of moving parts to the process. Things such as different plans to choose from, pricing, length of term, availability, warranty, storage space rules and regulations, and so on. Because of all these things to consider, it's important to do your due diligence and research moving companies near you before making any final decision just to make sure you are getting the best deal and options for your situation. Here are a few things to keep in mind when looking for moving companies near me:
Are moving companies near me?

Look for moving companies that have a location near your home. If the moving company is nearby, you will save the cost of a long journey. You are going to want to get an estimate of how much your move will cost so be sure to get at least three quotes.  

How much experience does the company have?

You want to make sure that the moving companies have been an active business for some time as this shows they have been doing good business throughout the years and can be trusted with your requests. Dealing with moving companies with years of experience (which ultimately should result in great online reviews) is very important especially if you want to have quality work done when handling your items throughout the whole moving and storage process.

Does the company offer an inspection?

It's a good sign if a list of goods to be removed can be drawn up in advance. If the removal of goods has been calculated precisely the removal company can also provide a solid cost estimate so there are no discrepancies.

Are further services offered?

You might want to look into the different types of services offered by these storage facilities and moving companies as they can provide just the basic necessities or can provide you with an all-in-one solution such as dismantling and assembling of any furniture as well as picking up and delivering the moving boxes to and from your destination. Obviously, you'll have to do more work if you do not choose an all-in-one moving and storage company but this could also be cost efficient. Whatever the case, it's important to research all the services offered and pick the one that best fits your needs.

Does the company have any certifications?

There are various associations moving and storage companies can join like AMÖ, Euromovers, and FIDI. These associations set up certain quality standards so you can have peace of mind knowing the members of these associations have been vetted. 

Does the supplier have a large moving truck? 

If you need to move large spaces like a large household, office space, venue, etc., we recommend using a service that has access to large removal vans. 

Is the payment on the invoice?

Legit removal companies will always charge you a fee once the work is done by providing you with an invoice, especially for tax purposes. It's always a good sign when the facilities and moving companies provide an invoice for payment just to make sure you have everything on paper and for legal reasons. Be extra cautious if they ask for advanced payments since they are not the norm.
Rent moving companies or full-service storage provider
A big misconception of using a full-service storage provider or a moving company is that it is too expensive. But the reality is, when you end up calculating all the costs you have when you are moving on your own, you'll quickly realize that it can actually be more cost-efficient when using a professional storage facility and moving service like BOXIE24. Especially since we have an all-in-one seamless solution available to our customers which includes picking up your items, storing your items in our secured facilities, and dropping these items off. Thus you don't have to worry about the following:
Reliable – Instead of relying on family and friends to help you move, you can rely on BOXIE24 to take care of all your needs and take the stress out of finding the best storage solution.
Time – There's no need for you to deal with transporting your items; let our team handle that for you.
Safety – Our movers are trained to make sure your furniture and valuables do not get damaged during any part of the transportation.
Equipment – We have all the necessary equipment for a successful move like safety belts, moving boxes, bubble wrap, protective covers, cars and much more.
Reduce Stress – We take over all the responsibilities when you hire BOXIE24 as your preferred solution so you don't have to stress about everything. You just need to coordinate the move and we'll take care of the rest!
Therefore, next time you are planning a move also search for 'self storage near me'. Because the benefits of using BOXIE24's full-service self-storage facilities and moving services are undeniable. Reduce your stress, save your money and let BOXIE24 take care of all your moving and self-storage needs. Feel free to give us a call at 844-337-7739 or email us at us.info@boxie24.com.
Beware of dubious and cheap moving companies!
Selecting a moving company can be overwhelming. You probably have heard a few recommendations from your friends, or have seen plenty of movers' ads online, but which company would be the best fit for you? 
Whether you are moving across or across the state, it should be your priority to hire a professional moving company. In addition, beware of dubious and cheap moving companies! These companies usually lack a license, insurance, and an overall professional demeanor. As the number of complaints against moving companies has been increasing steadily over the past decade, it's important for you to know what criteria to look for when choosing a moving company. 
Below you will see some of the best advice on how to avoid the most common problems with moving companies. 
Certifications: A moving company must have a U.S. Department of Transportation (DOT) number. It is important to ask for their USDOT number to look them up in the FMCSA's system, and make sure they are properly licensed with your state. 
Address: Is there a clear and real business address as well as a main point of contact with a phone number to a live human being? If not, I'd think twice before moving forward with any type of payment since these could be signs of fraudulent businesses looking to scam you for your money and time!
Free Quote: Is a consultation and site visit offered free of charge by the company? Any legitimate business should provide consultation and the ability to take a look at their product and/or services free of charge to make sure it's a good fit for the customer. If they don't, I'd lean towards moving companies that offer this service, especially if you have a large move coming up. 
Track Record and Experience: It is important that you know what you are paying for. Remember that good services come with a corresponding price. If you can pay a little extra money to guarantee safety, good service, and convenience, you should do so. A good review website you should check out is yelp, they offer one of the most genuine reviews. 
Hidden Extra Costs: Tricky movers will show you lower prices, and then they find their way around and make you pay more later down the line. Always read through and understand your price estimate before you sign anything.
Referrals: Asking a close friend or family member for a referral is a great way to find a business. Your friends and family are unlikely to refer you if the service they experienced is poor. Try asking around to supplement your research on moving companies. 
Overall, the message here is simple: do your research. There are many companies out there that are dubious and want to scam you out of your money so don't fall for their tricks. 
At BOXIE24, we want you to be happy and make the right choice when choosing a moving company. We offer low-cost, convenient, secure storage solutions, and moving services in the NYC area. We look forward to assisting you to move to your dream place!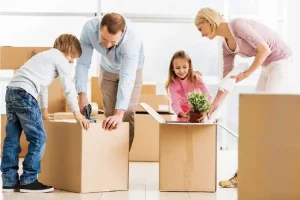 Benefits of a full-service storage provider 
There are a lot of benefits when using a self storage provider, especially if you are in between moves and need to store your belongings for a long or short period of time. If you find yourself in this situation, it is everything but ideal since you will likely have to make multiple trips to and from the storage facilities as well as to and from your old and new home. As we all know, moving day can be one of the most stressful times and situations we deal with, especially when you're dealing with a large or complex move, which is why utilizing a full service, all-in-one public storage unit near you can make all the difference in the world. For these reasons, BOXIE24 was created to provide you with a seamless way to deal with moving day and storing all your valuables within the city. If you do plan on moving to another city and need a self storage facility in the meantime, you can always use our mini or large self storage facilities, which are climate controlled, and schedule movers to come pick up your belongings and ship them to your new destination.  We not only come over to pick up your belongings, but we also will drop them off whenever you need them back. Plus, we provide extremely durable and eco-friendly moving boxes for you during your move so you can be prepared for moving day in the easiest, stress-free way possible. 
Advantages of using BOXIE24:
Our storage facilities are fully secured and equipped with camera-monitoring systems. Also, our storage rooms are climate-controlled and dry so you know your belongings are in good hands. 
We provide quality customer service to all our customers which sets us apart from the rest of our competitors. We have mostly 5-star ratings on Google and Yelp so you can rest assured that your items are with professionals. 
We provide additional items if needed such as our moving boxes which are sealable and lockable for your own security and peace of mind when moving. You have the option to directly buy our moving boxes for your personal needs or you can just rent them out throughout the duration of your move.
Our pick up and return service is probably one of the more popular reasons why customers love using BOXIE24. As mentioned, we provide you with a seamless, all-in-one storing and moving service with pickups being free for up to 75 sq. ft. when the customer lives on the first floor or ground floor. 
We provide a low price guarantee because of our advanced storage solutions available. Furthermore, they get an all-in-one package solution which is a more cost efficient plan available overall.
We have all the necessary equipment for a successful move like safety belts, moving boxes, bubble wrap, protective covers, cars and much more.
Whether your new house is not ready yet, or you are moving to temporary housing for a couple of months, BOXIE24 can always provide you a beneficial solution. If your situation changes and needs more time, no worries, you can rent storage as long as you like. You can have your items kept safe in storage facilities with short-term or long-term storage options. Call us now to formulate a custom plan and pricing for you: 844-337-7739. Especially if you are looking for self storage in New York you should check out our storage units in NYC.