We are all familiar with the concept of shredding documents. In fact, many of us may have small shredders in our homes or workplaces meant for this exact purpose. Shredding is done in order to protect potentially sensitive information.
This can include papers such as: 
Identity documents
Bills & bank statements
Insurance policies
Sensitive records (Medical records)
Shredding papers is done for a number of reasons such as:
Data security, to avoid fraud for the businesses and individuals
Privacy
The legal compulsion to destroy documents after a period of time (Lawyers or doctors' offices)
This all boils down to making sure you are explicitly thinking about the needs of your business with regards to document storage and safety. This article will include some best practice tips for this.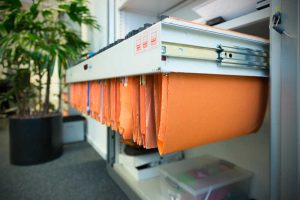 Who Should Think About Shredding?
To a certain extent, we should all consider our own personal data privacy, and shredding is a key component of that. Whether it is bills or bank statements with sensitive information, or private medical records, shredding these, rather than throwing them in the trash, will help to protect you from fraud, identity theft, or even blackmail.
Now, of course, these are not necessarily pressing threats to everybody in equal measure. While personal shredding is certainly important, it is businesses that have the most to lose from breaches in data security. Such breaches leave businesses open to being defrauded out of large sums of money, as well as being held legally liable for a failure to protect clients' data.
This makes shredding important for any business, but particularly those that store sensitive client information. Doctors, lawyers, banks, and insurance companies are all examples of such businesses, but even more mundane organizations, such as schools, universities, charities, or any other organization where personal data is stored should consider the benefits of shredding.
Know your options:
Now, of course, it is not reasonable to expect a doctor, lawyer, or a large organization to hand shred all their sensitive documents. So while desktop shredders may be useful to have on hand for personal correspondence and the like, having to shred on an industrial scale will require professional assistance.
In New York, there are a number of companies that are able to shred documents on an industrial scale and it may be wise to strike up a partnership with such an organization.
However, if you are a document-keeping institution, there are often legal requirements for the length of time in which you are obliged to keep your records before allowing them to be destroyed. Once again, this can expose your business to risk. Therefore, it is also important to think about data security and storage in the period before simply destroying the document is allowed.
This is the point at which having a trusted partner, experienced with the storage of documents is of the utmost importance to you and your business. After all, most doctors' practices in New York are not actually big enough to store the mountains of paperwork required to keep them going. While confidential information is still required for legal reasons, make sure you protect yourself and your clients by storing it correctly.
Document Storage:
Good document storage is essentially an investment in the security of your business, in the same way, that an alarm or camera system is. Just as you would want to ensure the best alarm has been fitted, you should make sure that you are storing your documents with a provider of safe storage.
At BOXIE24 we have extensive experience in storing sensitive documents and archives for hundreds of organizations in three different countries. As a full-service storage company, we will handle all of your needs from pick-up, transportation, and storage, all the way through to return delivery, even to a third-party shredders location.
Our expertise in handling documents means that, in this case, we are often an even safer option than keeping documents in the basement of your building or a self-storage. Our state-of-the-art warehouse has a top-of-the-range fire suppression system, as well as 24-hour camera surveillance and regular guard patrols. This makes BOXIE24 the ideal location for keeping your documents safe until they can be permanently destroyed.
Data privacy and safety are a priority for all kinds of businesses, but not a priority in which a doctor, lawyer, or banker are experts. So delegate it to the experts with years of experience in keeping documents safe. If you are interested, call BOXIE24 now for an obligation free quote at 844-337-7739
Frequently asked questions about shredding
Why would I shred my documents?
There are a lot of benefits to shredding documents, such as data security, privacy, and the legal compulsion to destroy the documents after a period of time.
What are the benefits of document storage?
With document storage you save a lot of valuable space in your building, but most important your documents are in a well-secured storage at our facilities.
Does BOXIE24 offer shredding services?
Yes, at BOXIE24 we offer shredding services for papers, once you store your archives and document at our place, there is a possibility to shred papers with your permission.
More information about renting storage at BOXIE24?
Want to know quickly if we serve your area with our storage services? And how quickly we can pick up your items? Check out our storage locations or give us a call (for the fastest answer).