BOXIE24 is the archival specialist in the Netherlands. We have been helping organizations with external archive storage for years. You can store your archive externally with us and have it managed, whereby we take all the work off your hands. Don't just think about storage and management, but also about certified destruction.
By law, you often have to store your archives for a longer period of time, which is usually at the expense of your precious office space. We offer you the option to store both small and large archives in a secure environment. Depending on your wishes, we can offer a suitable solution for everyone. In addition to valuable office space, you do not have to worry about burglary, fire and flooding. Your belongings are safely stored with us, according to the highest quality standards. Through our inquiry service, you have access to your documents at any time.

Business archive: What are the options?
The amount of documents that you as an entrepreneur are obliged to keep varies considerably per company. When it comes to a large company, the size of your archive may quickly become overgrown. As a result, it becomes increasingly difficult over time to accommodate your archive in your own business space. Therefore, many entrepreneurs are looking for a solution for storing their business archive.
Rent extra office space
You may be able to expand your office space and rent extra office space to store your archive. However, the usefulness and necessity of archive storage differ widely. Although you are obliged to keep your archive for a while, you usually do not need to access it immediately. Renting office space can be quite pricey in large cities and it is of course a shame to spend a lot of money on a space where you hardly come.
Use inexpensive basement or garage
Perhaps you have enough space in your basement or garage, or you know how to rent a garage from one of your neighbors for a low price. That may seem like a smart move and a cheap solution, make no mistake! The climate in cellars and garages is not exactly stable. Temperature changes until then, but moisture is actually a major problem for archive storage. It can be costly if it appears that your archive has become unreadable due to moisture or vermin.
Archive storage with BOXIE24: easy and cheap
An easy alternative to your archive storage is to store your archive at BOXIE24. Renting a storage box for your archive at BOXIE24 has many advantages. Your documents are securely stored in one of our modern storage facilities until the legal retention period has expired. We do everything we can to relieve you of as much work as possible with regard to archive storage, so that you have to worry about it as little as possible.
Why archive storage with BOXIE24 is a godsend
The legal obligation to store your archive can cost you a lot of money. However, this does not have to be the case. BOXIE24 offers the cheapest storage space, in combination with a fantastic service.
Safe archive storage
In addition, at BOXIE24 you are assured of a safe storage place for your archive. Our storage facilities are equipped with camera surveillance and alarm systems and there is also sufficient staff present during the day. Each storage location has its own lock and therefore, besides our staff, only you can access it. The temperature is also constantly regulated, so there is no moisture or vermin. 
Free pick-up of your archive
We can offer you a free pick-up for your archive. If you need some parts of your archive in the meantime, we can arrange a partial delivery. We would also like to return your archive after the storage period, for a small transport fee. This way you don't have to worry about transport, which saves a lot of stress.
Use our handy storage boxes
You can use our handy, sturdy and environmentally friendly storage boxes free of charge to store your archive. If desired, we can arrange for these boxes to be delivered to your office. You can easily pack your archive, after which we collect the filled boxes and store them with us. We recommend that you label these boxes so that you know exactly which documents are in which box.
Customized archive storage
BOXIE24 is specialized in archive storage. This way we have a solution for every situation. For example, we offer storage options from one square meter to complete storage of pallets. All our storage facilities are equipped with racks, so that your archive is also clear of the ground.
Depending on the type of archive and the associated regulations, we can offer you the following archive storage options:
Archive storage per square meter
Archive storage per pallet
Archive storage per archive box
All our archive rooms meet all requirements, as laid down in the archive law. We also store archives of government agencies.
Archive storage space per square meter
With BOXIE24 you can already rent an archive storage box from 1 m², which you can furnish yourself. This is particularly useful if you want to house a small archive, without compromising your valuable office space. We can fully adapt our storage spaces to your wishes and capacity up to 200 square meters. This way you can be sure that your archive is securely stored and you always have access to your archive.
Archive storage per pallet
Pallet storage is ideal for storing large amounts of archive.
Is your archive already on pallets and do you want to store it externally? We can store your archive cheaply in our warehouse with pallet racks. Especially if it takes up valuable business space for your archive. In our national archive storage warehouses there is enough space available to store your pallets with archives.
Archive storage per archive box
If you only have a few documents that you want to store safely, you can also choose to store them per cubic meter in our "cupboard space" archive storage boxes. With this you always have access to your valuable documents for a fraction of the price.
Archive management
At BOXIE24 you have the option of managing your archive yourself or outsourcing it.
Archive storage in-house
If you choose to manage your archive storage box to be rented yourself, then only you, or your authorized personnel, will have access to the archive box. This way you can be sure that your documents are stored confidentially. We can of course help you with the layout of your archive box.
Archive managed by BOXIE24
You can also choose to let us manage your archive. Our employees will come and collect your archive when it suits you. In addition, they will clear your archive boxes for you and provide your archive with registration codes, which are processed in our software system. This means you always have an overview of your archive and you can request both physical and digital documents within 24 hours.
All our employees are screened and trained for this and will handle your documents confidentially. Of course you can also choose to request highly confidential documents at the location itself.
Digital access to the archive
You can manage your storage archive online and request documents via our website. When you log in to your online environment you will get access to your overview of stored documents. You can then select a document or archive box, after which it will be made ready for inspection or delivered to you. We can also digitize your documents.
Digitizing archive
In addition to storing the archive, we can also digitize the stored archive for you. This means that when you request documents, we scan them for you and upload them in your personal environment. This gives you direct access to the documents and you can view them immediately at a later time. The advantage of digitizing archives is that the documents no longer need to be physically moved.
This not only saves you time, because you do not have to search in the physical documents yourself, but also the environment.
Advantages of renting archive storage
At BOXIE24 you can safely and securely store your archive. In addition, archive storage from BOXIE24 offers even more advantages:
Archive management
Archive digitization
Archive destruction according to European DIN 66399 standard, certified CA +, NAID AAA
Free transport under own management
Protected against burglary, fire and water damage
More than 50 locations in the EU and US.
Certified ISO 9001: 2015, ISO / IEC 27001, ISO 50001, ISO / IEC 21964-2018;
24/7 access to your documents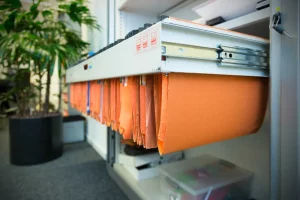 Archive destruction
You are legally obliged to keep the archive for 7 years. Of course it can also happen that you want to keep certain documents longer or shorter. BOXIE24 can also take this off your hands.
This way we can digitize your entire archive and notify you when the deadline has expired. You must of course give your explicit permission for destruction, after which we destroy it in accordance with the European standard DIN 66399.
Archive destruction and storage with BOXIE24 Storage is safe and trusted. Are you interested in archive storage and archive destruction? Then contact us.
Archive destruction on location and store the rest externally?
Do you want to clean up part of your archive and store the rest externally? No problem at BOXIE24. One of our archive destruction trucks will visit you to destroy your archive on the spot.  We can also take the rest of your archive with us and store it in one of our branches.
In business you quickly have to deal with a lot of paperwork. A very large part of it is for short use and then goes into the paper bin.Keeping an archive involves quite a bit of work. For some documents, for example, a legal retention period of 7 years applies.
Which documents must be kept? 
Every entrepreneur is legally obliged to keep his administration for 7 years (fiscal retention obligation). However, not all parts of your administration need to be kept in your archive.
However, certain parts of it are of great importance, these parts of your administration are considered basic data. When saving an archive, you should think of
The ledger
The debtors administration
The accounts payable administration
The stock administration
The purchase administration
The sales administration
The payroll
The basic data must be kept for 7 years. 
In some cases, keeping an archive can also be longer than 7 years. This applies, for example, when it comes to real estate, for which the sales tax administration must be kept for 9 years.
For questions regarding archiving, we ask you to contact the tax authorities.
More information about renting storage at BOXIE24?
Want to know quickly if we can pick up your items from your place? Then look among our storage locations or contact us by phone (fastest answer).