Unfortunately, divorce is becoming increasingly common, and we are ill prepared for it when it actually happens to us.
Your relationship falls apart, and you can no longer work it out together. This often results in an unpleasant period in which you have a lot to arrange. Administrative matters can take up a lot of your time. A period of much worry and turmoil, for yourself, your ex-partner and any other family members.
Storage rental can be helpful to keep your belongings safe
What happens to the house? Keep it or sell it? Who will live where? How do we divide the stuff? What do I do with my furniture if I have to live in a smaller house? Just some questions that suddenly need to be considered.
You don't want to have to worry about storing your possessions or keeping them safe. That's why renting a storage unit is a popular solution when going through this tough transition in life. When it comes to staying organised and protecting what's yours, a storage unit can be very helpful.
When your possessions are safely stored in a storage facility, you have less to worry about. You could already put the house up for sale and get used to the new situation after divorce. Also, you have more time to deal with administrative matters.
You cannot work things out together – now what?
You are going through a divorce. A period in which a lot of things need to be arranged. You used to live under one roof, but now you will be living in two separate homes.
Various scenarios are of course conceivable:
You stay in the house together until (one of) you has found another home
You sleep at friends or family
You move into a temporary home.
One of you moves out, the other stays
You both move to a new home and put the old one up for sale
In all these cases, you need to consider the wishes of your children, pets, the location of work and so on. What will you do with everyone's belongings?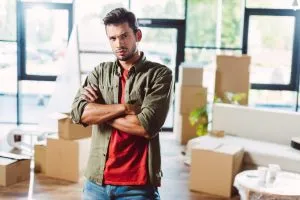 Downsizing after divorce – put your belongings into storage
In many cases, divorced partners are going to live in a smaller home or apartment. After all, you live with fewer people so you need less space. But this also makes sense when it comes to money. You don't have a double income anymore to split the living costs.
Downsizing after a divorce is usually the wisest choice. However, you need to make a choice about which items you do and do not take with you, as you probably won't be able to store all your belongings in your new – smaller – home. Putting them into (temporary) storage is a smart solution.
You need to make choices
Your old furniture such as sofas, wardrobes and a bed will surely come in handy in your new home. But will you have space for all the books or your hobby equipment? Will that one piece of art  fit in your new home? You'll need to make choices.
There are items that you cannot put in your new home after the divorce, but you don't want to get rid of them either. Of course you could put them in a family member's garage. However, this isn't always wise, as humidity, mould and/or dust may quickly take hold of your valuables.
An climate controlled storage unit, on the other hand, is safe and clean. Plus you always have access to your stored belongings. Moreover, renting a storage unit does not have to be expensive at all!
With our handy storage unit calculator it's easy to work out how much space you need, and to calculate the average weekly, monthly or annual costs. We also provide a moving boxes service and a (in many cases) free pick-up and delivery or your goods.
Dividing your stuff – make an inventory
With your divorce, you'll usually have to divide shared belongings and joint assets. It is wise to do this right away. Hopefully this will prevent arguments afterwards.
First of all, you should make an inventory together. If you are married on prenuptial agreements or lived together with a cohabitation contract, you probably already have agreed on which items belong to which partner. But even then, there are items that you have probably bought together. Think for example of kitchen utensils, a carpet, paintings, towels, electronics or souvenirs.
Once you have the list complete, it is wise for both of you to write down separately what he or she wants to take. Some items, such as heirlooms, will automatically stay with the original owner.
Once you have decided which partner keeps which items, record this in the divorce document, which has to be approved by the court. The Nibud has a very complete checklist of how to divide things during a divorce.
Temporary Storage Near You
Have your belongings been divided but you cannot move into your new home yet? Consider renting a storage unit near you. You simply store your things for a while, safely under lock and key, yet always accessible if needed.
Note! It is important that you move your belongings to a new house or a storage unit with the approval of your future ex-partner. Keep communicating to prevent arguments.
What are the advantages of storing your belongings during a divorce?
Some divorcing people temporarily move in with family or friends. Of course, you cannot bring all your possessions with you. Especially if you are in a tough divorce, it is wise and pleasant to move your belongings as soon as possible. When you haven't found a new house yet, this poses a problem.
Fortunately, the solution is simple, quick to arrange and affordable: rent a temporary storage unit!
So you can be sure that your things are safe and dry, while not getting in anyone's way. And you can access your possessions as soon as you can move into your new home.
The (good) part: you'll need to buy new stuff too
In some cases, partners choose to continue living in the shared house. Or they move in with friends or family until they've found a new home. But you will need new things for your future home.
Sometimes only small things like a new kettle, or a knife or pan set. But if your partner keeps the larger items such as fridge, sofas or bed, you will need to buy new ones. This can take up quite a bit of space. Please don't hesitate to contact us if you need to free up space. Our friendly staff will help you with all your storage questions.