Are you going to relocate soon? Chances are you have enough to think about already and you may easily overlook something. That's why you should use our useful moving checklist, to make sure the whole moving process, and everything that it involves, goes as smooth as possible.
Moving checklist – what to arrange in advance
Terminate the rent 
Measure your new home
Plan a moving date 
If needed, arrange a moving lift 
Arrange movers 
Arrange gas, water and electricity
Internet, telephone and tv
Make an inventory list of your home
Throw away what you don't want to move or store it through BOXIE24 
Transfer insurances (household, fire, etc.)
Arrange moving boxes and packing material
Rent a lorry or arrange transport
Compensations (reimbursement of removal expenses, a day off )
Start on time with packing moving boxes (saves a lot of time)
Disassemble the furniture 
Cleaning of your old and new home
Remove dowels and screws in your former home (paint the walls if needed)
Key exchange
Before you empty your pantry, be sure that enough food and drink is left over
Dismount lamps, curtain rails and pictures
Put your important paperwork somewhere separately  
Write down your meter readings 
Arrange a parking permit (terminate the former one)
Ask friends and family to help
Set a date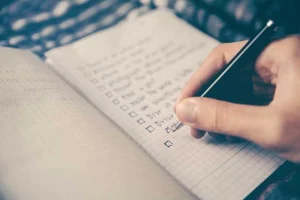 Communicate your change of address to:
Friends and family
Local municipality
Insurances (house, car, health etc.)
Newspapers, magazines
PostNL
Employer and colleagues
Dentist
Doctor
(Physio-) therapist
Bank
Notary
Car repair shop
Schools 
Sports club
Tax authorities
Parking permits
Internet, telephone, tv 
Checklist new home 
Measure all rooms (and outdoor area)
Measure height and width of all windows 
Detailed dimensions of the kitchen (stove, fridge, etc.)   
Heating installation
Doorways (some open inwards, some outwards)
Number of power outlets 
Regulations landlord 
Regulations about pets 
Household / Bulky waste 
Anti-burglary measures 
Connection to gas network
District-heating (when available)
Glass fibre internet (if available)
Introduction to the neighbours
VVE (Union for apartment owners) 
Parking permit 
Take up insurances 
Check the zoning plan
More information about renting storage at BOXIE24?
Want to know quickly if we can pick up your items from your place? Then look among our storage locations or contact us by phone (fastest answer).