1. We deliver the boxes
Just let us know how many you need, and we deliver the boxes within 24–48 hours.
2. You move
Our plastic boxes help keep your fragile items intact as you transfer your belongings.
3. We pick them up
Keep the boxes for one week with the option to extend on a weekly basis – and we pick them up again.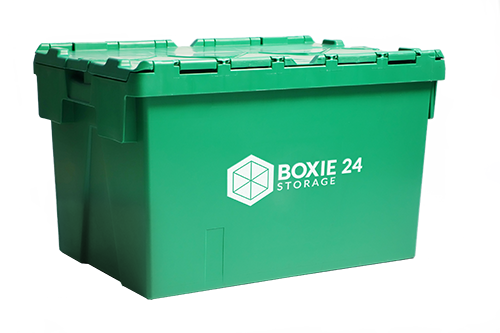 The clever alternative to cardboard boxes
What makes our plastic boxes better?
✅ Cheap: Renting moving boxes is cheaper than buying them
✅ Convenient: We deliver and return the boxes free of charge
✅ Strong: Extremely durable boxes that won't rip, even when filled with heavy items
✅ Protected: No more crushed or wet items
✅ Secure: Easy to lock
✅ Stackable: Stack empty boxes into each other and filled boxes on top of each other.
✅ Eco-Friendly: Life cycle of at least 500 moves
More information about renting storage at BOXIE24?
Want to know quickly if we can pick up your items from your place? Then look among our storage locations or contact us by phone (fastest answer).