The days are getting shorter and shorter and the cold months are just around the corner. Perhaps you have already stocked up on winter clothes or bought tea and soups for the cold season? But what about your garden furniture – how do you prepare it for the temperature change?
Autumn is just around the corner – where to put the garden furniture?
When the leaves change color, the days become shorter and the number of rainy days increase, the summer time and with it the time in the own garden slowly comes to an end. So that you don't have to worry about storing your garden furniture in the freezing cold, we will show you how to make it winter-proof before the fall.
Risks for your garden furniture
If you want to leave your garden furniture outside in autumn and winter, it will be exposed to higher risks than in the warm months. Weather influences such as wetness (snow, rain, morning dew), frost, strong temperature fluctuations and UV radiation lurk on your objects, which often results in the formation of rust, mold, mildew stains, cracks or color fading. You can protect your garden furniture from these sources of danger by a good preparation for the change of the seasons as well as by an ideal storage.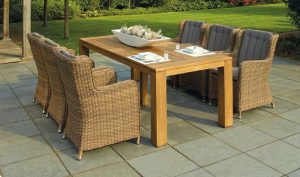 Prepare garden furniture
How much care your garden furniture, balcony furniture or patio furniture needs depends heavily on their materials. Depending on their condition, you can take different precautions to prepare them for autumn and winter.
Wooden garden furniture
Subtropical hardwoods (e.g. teak, eucalyptus): This furniture usually already has a high oil content, which protects it from the weather
Other woods (e.g. spruce, pine): Since these do not contain sufficient oil by nature to winter, it is worthwhile to provide for it yourself. Otherwise, cracks can develop due to the strong temperature fluctuations, as well as mold due to humidity
How to apply oil onto your furniture:
Remove dirt with soap and water, allow to dry
Sand with emery paper to prepare for the oil
Depending on the type of wood, use linseed oil or special oil from the hardware store
Our tip: If your wooden furniture has lost its color or got scratches in winter, we advise you to sand it down and spray paint it at the beginning of spring.
Plastic garden furniture
Although dining tables, garden chairs or other articles made of plastic do not rust, they can crack when cold and thus turn into a dirt trap. In addition, color fading can occur when exposed to sunlight. Therefore, you should not leave your plastic outdoor furniture outside in winter.
Garden furniture made of polyrattan
Polyrattan behaves differently than natural rattan and than most materials in wet conditions and temperature fluctuations. Since Polyrattan is more resistant and water repellent, objects made of this material could spend the winter outdoors. A disadvantage, however, is that the material can quickly fade when exposed to UV radiation.
Metal garden furniture
Here you should pay attention to the type of metal. Rain, snow and morning dew can cause rust stains on your iron furniture. To prevent this from happening, you can apply special care products from a specialist store. With stainless steel, aluminum or coated metal, there is usually no risk of rust. In the case of lacquered furniture, we advise you to check whether the lacquer shows any damage before the fall of autumn. This can be touched up with lacquer from the home depot to protect the furniture from autumnal weather influences.
Other items
Seat cushions for the sitting area, conversation set, outdoor seating, bistro sets, patio dining set, chaise lounges as well as other outdoor living items should stay outside during winter. Since humidity and water accumulation (morning dew, rain, snow, etc.) quickly cause mold and mildew stains to form. We recommend putting them into the washing machine after the end of summer, drying them and storing them indoors.
However, for each material, we recommend that you clean the furniture thoroughly before the beginning of winter to prevent dust and dirt from settling there during storage. Plastic and metal can be easily cleaned with soap and water. For wood, we advise you to use certain cleaning supplies from the specialist store. Heavy soiling can be removed with a coarse brush. For lighter soiling and sensitive materials, we recommend using gentle sponges or cleaning cloths instead.
Garden furniture storage
Garden furniture will last longer if it is stored in a sheltered place after the end of summer. We will show you the possibilities for this in the following.
Outdoors with protective cover
Whether garden furniture should be covered to protect against hazards remains a heated discussion. A good reason for a protective cover is that the furniture will be rainproof and UV protected. Problematic is however that under most covers no sufficient ventilation takes place, whereby the air humidity rises, which leads to mould and stains. However, a protective cover is strongly recommended for umbrellas. This protects the umbrellas from fading and prevents small animals and bugs from nesting there for winter. Our tip: If you want to leave your furniture outside, make sure that it is well protected from the ground. For this purpose it is suitable to place a tarpaulin under the furniture.
Garden house
Do you own a garden house and would you like to store your garden furniture there in winter? This is a good idea! The garden house is ideal for protection against external influences. In order to protect your furniture from the cold winter, we advise you to insulate the summer house sufficiently. Unfortunately, there is a possibility that rodents also feel comfortable in your summer house and use it as a shelter for hibernation. This can lead to damage to your garden furniture set.
Basement
Your basement also offers a good place for storage. Here it is important that you ensure sufficient air circulation and low humidity and do not store the furniture in rooms that are too cold or too warm.
Self-Storage 
A Self-Storage offers ideal conditions for the storage of garden furniture. At BOXIE24, the furniture is protected from harmful UV radiation and stored in a dry and air-conditioned place. This protects your furniture from cracks, mold, mildew stains, warping and color fading. In addition to garden furniture, you can of course also store beanbags, hammocks with racks, parasols, awnings, pavilion side walls, hanging chairs, garden lights, fire baskets, barbecues and other items. Thus your garden accessories are well prepared for the beginning of spring for outdoor use. While we pick up your garden furniture from you, you can spend a relaxing hour with tea and cookies.
Tip: In order that small parts such as sandbox toys, table tennis accessories, equipment for gardening, barbecue utensils or outdoor space decoration are neither damaged nor lost, we advise you to store them in boxes. You can rent them from us for the winter months at a reasonable price.
If you have any questions regarding the storage of garden furniture, we will be happy to help you with advice and support at 0800-4030-180