---
Relocating your office can be an opportunity for your company for a fresh start. Moving your business can be an exciting and progressive time for you and your company.
Moving your office to another place can happen for a number of different reasons, maybe you want to expand your business or the cost is simply lower in a different location, there are a lot of different reasons for relocation. 
But as exciting as moving to a new place can be packing up and storing an entire office for a remodel or relocation can be expensive if you don't manage it correctly. From using the right tools to contracting with the right storage facility, it's important you plan accordingly to maximize your time and money. There are several ways of how you can improve your office relocation, from outsourcing the process to a professional moving company to do it all by yourself. 
Whatever you need for your office relocation, BOXIE24 can assist you with storage space during the move and the rent of convenient moving boxes that we deliver to your doorstep.
Temporary office furniture storage
If you are remodeling your office space and need somewhere to keep the office furniture during construction, BOXIE24 offers temporary storage space with flexible rental options.
Our self storage facilities are camera secured, clean and air-conditioned, we offer you a pick-up and delivery service so you do not have to invest resources into employes bringing your office furniture to us, we are coming to you.
You can rest assured that your important furnishings and office equipment are safe and secure inside our storage units as you make the transition to your new location.
Moving boxes for your office relocation
Finding the right moving boxes is not easy you have to look out for the quality of the box, you need the right size and they should be stackable so you can transport them easier. 
Depending on your office size you will need a lot of moving boxes especially to store paper documents and other smaller items. You do not want your items to be damaged during your office relocation, many documents are important for your company and you need to know they are packed safe. 
You can choose to pick the standard cardboard boxes for your office relocation but if you want to stay safe choose a box made out of plastic, they are more stable, easier to stake and they do not tear. 
Therefore when it comes time to pack everything up for the move, be sure to ask us about our extra-strong moving boxes that are perfect for facilitating an office move. Designed for strength, durability, and volume, our moving boxes accommodate small office furnishings and desk items with ease. Every moving box by BOXIE24 has its own unique code and is traceable online, so you always know how many boxes you have stored at our storage facilities.
In addition to being highly suitable for this type of packing, our moving boxes are also eco-friendly because they are reusable.
Our moving boxes are sturdy and stack safely, and they can be sealed and labeled easily using our free stick-on labels.
After your move is complete, and everything is unpacked and in place, BOXIE24 will come and pick up the boxes. You don't have to worry about giving up valuable office space to store moving boxes. You just let us know when and where to pick them up, and we'll take care of them.
If you need more information contact our service team via Email or under our phone number 0800 4030 180. Our storage expert will assist you with your office relocation. 
Find the right office moving company
Office relocation is complex and can be stressful if you choose to do it all by yourself. So why not leave it to the professionals? A relocation service can be helpful nevertheless if you are a small or a larger organization. For smaller businesses, it can be helpful because time is extremely limited and managing a move could be detrimental to workflow and production. For larger businesses, office relocation gets more complex and the expertise from office movers might be necessary to complete the move correctly. An experienced removals company will know how to move your equipment in the most efficient and disciplined way, reducing the risk of downtime and damage. Furthermore, they will assist with the heavy lifting and provide the necessary packing materials.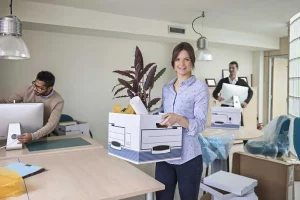 Make a plan
For every business-related decision you should develop a plan, office relocation is not an exception. Especially if you decide to do your move all by yourself, you should plan every step otherwise you increase the stress and complexity of move out and you make yourself more vulnerable for mistakes that can be costly. Make a checklist and work around it, this way you ensure that you are not forgetting anything. 
Further down this article, you will find some useful insights and ideas which will make your office relocation more convenient for you.
Archive storage
It does not matter if you are a small or large business, all businesses generate paper documents that they need to store because of legal reasons. Furthermore archiving your documents is important for your information management because your documents are stored properly and the pieces of information are always available.
But developing and maintaining archive storage is expensive, you need space to store your documents, an employee has to maintain the archive and you have to secure your archive storage. 

Therefore when you are relocating your office, think about outsourcing your archive storage.
BOXIE24 has developed a professional archive storage solution. Your documents are secured and properly stored in our facilities, only our authorized employees have access, if you need your documents we bring them to your office. You want to get rid of your archived documents because they are not needed anymore? No problem, we offer confidential shredding upon your request.
More information about renting storage at BOXIE24?
Want to know quickly if we serve your area with our storage services? And how quickly we can pick up your items? Check out our storage locations or give us a call (for the fastest answer).