---
Whether you are moving just across town or the country, moving is an overwhelming task. There are a lot of things that need to be done, and it's easy to forget something in the process.
BOXIE24 has many years of experience in the self storage business. As such, we have extensive experience and knowledge when it comes to packing, moving, and storage.
From offering a wide range of storage units for rent and quality moving supplies to providing advice for successful packing and moving, we go above and beyond to ensure our customers have a stress and hassle-free experience.
Whether you're moving your family across town, or you're packing up the office for a remodel, moving can be stressful. If you're not an expert, the process can be even more hampered by a lack of knowledge about packing using the right moving boxes and moving supplies for the type of items you need to move.
BOXIE24 professionals are experts in the field and are more than happy to assist in making your move an easy one.
10 points you should check-mark before moving out
Termination of your contract in due time
Terminate your contract in time, so you do not have to pay rent when you are already moved out. Most contracts have a notice period of 1-3 months make sure to be aware of your notice period. Don't forget to cancel other contracts you will not need any longer, for example, your parking spot or fitness membership.
 
Clear out your apartment
Decide which furniture you want to take with you to your new apartment/office and which ones you don't want anymore. You can sell your unwanted furniture online, but for your unwanted furniture, you have to organize a garbage disposal. If you have furniture or items you want to keep but you do not want to take them to your new apartment, then a self-storage space could be interesting for you.
 
Cancel telephone and internet connection
Do not forget to cancel your telephone and internet contract in time, most of the time they have a notice period of 1-3 months. Most phone &  internet providers have a dedicated form for you to fill out, for a termination, but you can always write your letter.
 
Change your address
Inform all-important contacts your new address and when you will be available there. It is also important to inform all official bodies such as insurance companies or contractual partners about the change of residence.
 
Plan your new home
Take measurements of your new home and architect your new apartment to your wishes. Plan your new apartment ahead, so you can coordinate the delivery of your new furniture and also you already know how your new apartment is going to look like.
 
Decide what you need
Over the years people collected a lot of items that take up a lot of unnecessary space in our apartment. Make a list of the things you want to keep for the new apartment and decide with ones you want to throw away or you want to store at a storage facility. This is also a great way to declutter your apartment, so you can start fresh at your new apartment.
 
Buy moving boxes and packaging materials
For your move out you will need the right boxes and packaging materials, there are different options for you. You can choose cardboard boxes but they are not tear-resistant or water protective. A good alternative to classic cardboard boxes are plastic moving boxes from BOXIE24. The material you will use to pack your boxes will be crucial because it will make sure your goods stay save, BOXIE24 designated pack material sets, so you have everything you need.
 
Organize a moving company
Sure, you can do the moving out by yourself with some friends, then just think about renting a moving van. But if you don't want to do everything by yourself, you should contact a moving company and if you are planning to move out of your country contact international movers. They will take care that your items are delivered properly to your new place.
 
Your moving out date and your move-in date don't overlap?
It is more common than you think, that you are not able to move into your new apartment but you already had to move-out at your old apartment. If this is your situation you can store your items, at our storage space. We come pick-up the goods for you, store them and if you like we deliver them back to your new place. You don't have to do anything we are making sure you have everything you need.
 
Moving out
The final step is to move out from your old apartment, this will be a stressful day but if you organize yourself probably, you will succeed in this challenge. You should have packaged every moving box beforehand, you need to coordinate the moving company and do not forget to take the last mail out of the mailbox.

8 Helpful Moving Out Tips For Packing
Whether moving or simply storing your items, the following moving tips on packing will save you a lot of time and frustration.
The right moving box
Use the right moving supplies for the job. A very common mistake most people make when packing for a move or storage is not using the right moving supplies for the items they pack. Using cheap moving boxes and plastic shopping bags acquired from the local supermarket does little to protect your things during transport and storage. The boxes often crush in on themselves and the plastic bags tear. Rather than risk damage, use quality moving supplies in the beginning. BOXIE24 offers stable, tear-proofed and water-resistant boxes made out of plastic. You can rent the boxes just for your move-out, we deliver them to your apartment and come and pick them up after you don ́t need them anymore.
 
Plan ahead
Plan ahead for packing up your goods for your moving out. Many people begin packing their storage unit without giving it much thought. What they usually end up with, is an unsafe, unorganized mess. Use the following tips to pack your unit for ease of access and better safety.
Pack the boxes right
Don't overload the boxes especially if you are using cardboard boxes, do not store fragile goods at the bottom of the box. Store the heavyweights at the bottom of the box and wrap the fragile ones up.
 
Organize your boxes
Label all boxes accurately. Make identifying box contents easy by labeling each moving box with what's inside and the room to which it belongs.
 
Maximize your space
Disassemble large items. Maximize the space inside your moving van or storage unit by disassembling any large items. This applies to things such as tables that take up a lot of space when fully assembled.
 
Protect your furniture
Cover your furniture, you don't want your furniture to get dirty, but during a move-out, your furniture may get dirty. Therefore try to cover your furniture, plastic foil prevents most of the dirt and edge protectors minimize the risk of damage.
 
Create a list for your inventory
Take inventory of the stuff you store. People tend to forget what they've placed in their storage units or moving boxes, especially if the items have been there for a long time. To make it easy to remember and find what you've stored with us, keep a running inventory as you pack or for your moving boxes label them with an inventory list. You also have access to an inventory list on your account at BOXIE24.
 
Use equipment for the heavy lifting
Moving out can be heavy work, you are required to move boxes, furniture, and all your other goods. To keep yourself safe use specialist equipment for your move out, it also makes the process of moving out easier.
Save the Planet – 3 Eco-Friendly Tips For Your Move
One of our core values is doing what we can to ensure the future of our planet. We work with our customers to decrease our ecological footprint, and that's why we're offering the following eco-friendly moving tips. Especially the supplies you are using for your move:
1. Use eco-friendly moving supplies. BOXIE24 Storage offers sustainable moving boxes made from 100 percent recyclable material. These rentable boxes are much bigger and much stronger than traditional cardboard boxes. This means they last longer and cause less waste than cardboard. Read more about whether to buy or rent moving boxes.
2. Use eco-friendly wrapping paper. Don't waste money on brown packing paper. Instead, use old shirts or socks to pack delicate items such as dishes. This is a great way to reuse old clothes and save the planet.
3. Use rope and string in place of packing tape. Packing tape is rarely biodegradable, and it uses a lot of energy during manufacturing. Rope and strings are reusable and environmentally friendly.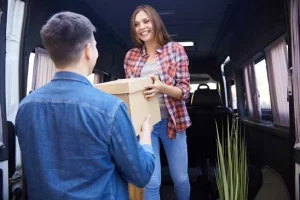 More information about renting storage at BOXIE24?
Want to know quickly if we serve your area with our storage services? And how quickly we can pick up your items? Check out our storage locations or give us a call (for the fastest answer).