Are you moving and in need of strong, durable boxes? BOXIE24 offers quality boxes and other moving supplies to meet the demanding nature of packing, moving and storage. And the best part: They are cheaper than your average moving box and get delivered to your place for free. Made of high-quality materials, our boxes stack well for easy organization and are durable enough to be used again and again.
Whether for self storage or business storage, moving box rental from BOXIE24 saves you time and money.
What you should know about our moving boxes 
In order to move and store your things safely, you should use the BOXIE24 moving box, we think they are better than the average cardboard box and here is why:
BOXIE24 will deliver durable and reusable boxes right to your door and once you are finished using them, we come back and pick them up again. Therefore they produce less waste and it is a cheaper way to move to your new apartment.
Our boxes are  stable and sustainable, so that nothing can happen to your belongings. They are strong and uniform so they won't buckle or dent as they are moved or stacked under normal moving conditions.
Pack and wrap your boxes up, to ensure your goods are safe and can not be damaged so easily. Newspaper is a common used packaging material but the printing ink can damage your goods, therefore it is better to use other materials like pack paper, socks or old t-shirts. If you want to be sure you have everything you need, check-out our packaging material sets.
Buy or rent moving boxes?
There are many benefits to renting sustainable boxes versus buying traditional cardboard boxes.
We get these durable moving boxes straight from the manufacturer, and they come to you brand new. We even deliver them to you when you need them. Our moving boxes work well as both personal and business self storage solutions.
Faster Packing
Our sustainable packing cases are ready to use right off the truck. They don't need to be assembled so you can begin filling them right away. They are designed for easy stacking, which makes for much faster loading and unloading, too.
Save Time and Money
BOXIE24 delivers our moving boxes for rent right to your door. You don't have to waste time running around town looking for cardboard boxes at local businesses. Also, our boxes are strong and durable, so there's less risk of damage to your things than packing in used cardboard boxes.
Extra Protection
Sustainable boxes from BOXIE24 are waterproof. They also provide extra protection for your belongings during transport.
Space Saving
When you rent boxes from us, we not only deliver them to you, but we also pick them up again when you're finished with them. This means no empty boxes sitting around taking up space after the move. Furthermore, our boxes can be nested when empty to save even more space until we pick them up.
Eco-Friendly
Our packing cases for rent are reusable. They are made from 100 percent recyclable material, so together, we can decrease our ecological footprint.
If you are interested, then contact BOXIE24, let us know if you want to buy or rent moving boxes. If you aren't sure, one of our storage experts can help you figure out which option is best for you.
Also, be aware that we also have other moving supplies available to help you pack and store your things properly. 
Packaging Supplies that last
Whether you are packing for a short stint in a storage space, or you are packing your things for long-term self storage, how you pack and what you use to pack your things has a huge impact on how they survive the journey.
Even the shortest trip across town is enough to cause damage to delicate possessions if you don't use the right moving supplies. Fortunately, BOXIE24 has all the moving supplies you need to pack your things right.
Here at BOXIE24, we want to help you make sure no damage comes to your things during transport and storage. We offer a wide range of moving supplies to make this so.
If you're in need of packing supplies, don't head out to your local retailer to buy them. Chances are, you'll spend more and still not have the right moving supplies to get the job done properly. 
Our online store has in stock packing supplies and equipment such as moving blankets, moving boxes for rent, wrapping paper and bubble wrap.When you get moving supplies from BOXIE24 Storage, you also have access to our storage experts who can help you get the right supplies to pack your things securely. When you have the right moving supplies on hand, packing, moving and storage process is a lot easier.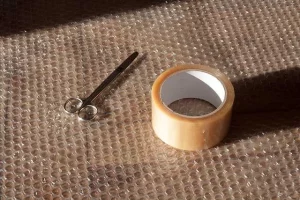 Our moving boxes are strong and versatile
They meet uniformity standards for length by width by height. 
Length: 60 cm
Width: 37 cm
Height: 40 cm
BOXIE24 boxes are designed for moving, but they also fit well for any kind of archive storage. 
If you're ready to move out and you need some advice make sure to check out our moving out checklist, it will make sure you don't  forget anything.
How to pack your moving boxes the right way
Packing can be stressful, time consuming, and a daunting task. It can be just as stressful as deciding where to move to. But it doesn't have to be that way.
That is why we compiled this list of helpful, and useful tips on how to pack your moving boxes. These tips are sure to take the guess work out of packing and make the process easier.
Use moving boxes of various sizes the right way
That means no using large size boxes for all your packing. Most people think that since the box is large they should fit as much stuff into it as possible.Therefore, they won't have to pack as many boxes. This may seem logical at the time but come moving day you will wish you hadn't.Large boxes filled with heavy items have a better chance of breaking. I have had this happen to me before and had to repack my box. If you fill large boxes with heavy items they will be a lot harder to move. Instead fill large boxes with items such as pillows, blankets, and other light items.
 
Get organized
Pack items of the same size and weight in the same box. Do not mix items from different rooms in one box. This may seem more convenient at the time but you may regret it later.
Pack items from each room into the same boxes and label each box. That way the unpacking process will go a lot smoother. If you hire professional movers labeling your boxes will help them to know where each box belongs.
Another tip if hiring professional movers is to not have empty spaces in your boxes. Make sure your boxes are well packed and balanced. Professional movers won't move them otherwise.
How to wrap and pack your dishes
If you are packing avoid using newspaper to wrap them in. The ink from the paper could stain them. Put packing paper around each one instead
Once you have done that put them into bundles of 5 or 6. Then wrap each 5-6 plate bundle with more paper. Never pack your dishes flat but on their sides. For padding use bunched up paper above and below your dishes.Place cups and bowls inside one another with paper in between each one. Then wrap them into bundles of 3-4.
More information about renting storage at BOXIE24?
Want to know quickly if we serve your area with our storage services? And how quickly we can pick up your items? Check out our storage locations or give us a call (for the fastest answer).