Is your home in need of renovation or do you want to spruce it up a bit? We have listed the most important tips and tricks for you.
Identifying Problem Areas
Before the renovation can start, we recommend that you get an overview of the current repairs. This is best done with the help of experts. Check walls, floors, windows and doors, connections and power lines for condition and functionality.
Questions to ask yourself before renovating include:
Does my house need an energy-efficient renovation?
Do I want to set up a Smart Home?
Are all power cables run at the desired location?
Are floors and walls dry and in good condition?
Does my house have water damage?
Does my house need replacement windows?
It is important to get an overview of the upcoming renovations before the renovation work starts. This way you will not be surprised by unexpectedly high renovation costs.

Planning Renovation
After thinking about what kind of repair work is required, we recommend that you plan more carefully in the next step.
Planning your renovation
Sort your repairs urgently. Repairing a leaking roof is more important than repairing some scratches in the floor. If there are repairs that are equally important, we recommend that you work room by room so that you do not have a construction site in several rooms at the same time. This way you keep the construction site organized. To make the decision easier, you can get advice from a building expert.
Time and cost statement
Once you know what renovations need to be done and when, you can create a schedule and cost plan that you can supplement along the way. This prevents you from getting stuck in small tasks and high costs. At the same time, you need to consider what work you can do yourself and what you would rather entrust to professionals. Again, it's important to compare prices and get different offers.
Necessary materials
Since you need certain materials to renovate your old house, you need to get where you want them from in time. You must also make it clear whether your professionals bring all materials.
Reasons for a home renovation
After careful planning, you can finally start the actual renovation. Reasons for a home remodel can be many, here we show you some examples:
Energetic renovation
An energetic renovation is especially recommended for old houses. Because heat can escape quickly due to poor insulation on doors, windows and shutters, insulation often needs to be applied.
Create accessibility
To make the house suitable for the elderly, you can do some renovation work. These include: installing lighting, eliminating tripping hazards, adapting the home to the use of a wheelchair or walker, and converting kitchen furniture, bathroom furniture and fixtures to a suitable height.
Modernization
Whether it's a smart home or a modern design with panoramic windows, a variety of living trends are reviving even old houses.
Burglary protection
More and more people fear burglaries and decorate their homes accordingly. Installing lockable frames and balcony doors, camera, alarm system and basement window security can entail additional costs, but in the long run you will have to worry less about losing expensive items.
Durability
Earth's resources are becoming increasingly scarce and the idea of sustainability is gaining more and more attention, even in the renovation of homes. If you want to renovate your home in an environmentally conscious and future-oriented way, you have to deal with a multitude of possibilities: the use of natural materials for insulation, the installation of a photovoltaic installation to generate electricity or the use of sustainable building materials and wall paints are just a few examples.

Furnishing and Decoration
Do you not want to renovate your house immediately but only make small changes or is the renovation already finished and do you need some decorating tips? Here we show you some ideas from BOXIE24's furnishing experts.
Wall tattoos and patterned wallpaper
To furnish your rooms creatively and at the same time save money, the attachment of a patterned wallpaper is ideal. However, we recommend that you only use it on one wall and choose neutral wall colours for the rest of the walls. In this way, the pattern comes into its own best and the space looks clearer and more spacious.
In addition, we advise you to match the furniture with the choice of wallpaper. For example, if you use a colourful patterned wallpaper above your bed, then single-coloured bed linen, pillows and bed mats are particularly suitable for creating a balance.
Wall tattoos are an inexpensive alternative to patterned wallpaper. These are easy to attach to the wall and, unlike wallpaper, are quick to remove if you want a new design. Wall tattoos come in all shapes and colours and are ideal for setting accents in the kitchen, living room, bathroom, bedroom or nursery.
Hang pictures
To give the apartment a personal touch, photos should not be missing. Whether classically framed on the wall, pinned to a pin board or creatively – there are countless possibilities. For example, photo prints can be hung on the wall in a heart shape or you can hang them on a chain of lights and hang them in a jagged pattern above your desk.
You don't want to renovate your house right away, but you still want to redecorate it? To save costs and time, you can easily exchange your existing furniture. It is up to you whether you simply move the furniture within one room or replace it across different rooms.
Room dividers also provide an ideal opportunity to rearrange the room at a reasonable cost. Plus, you can make your room look more homely with space-saving furniture. If you need help with cleaning up your home, we're happy to give you some tips in this article.
Lights
With lighting, you can make your home shine in new splendour. In the hardware store you will find a large selection of different lamps. While warm white light bulbs are recommended in rooms for relaxing – such as the living room or bedroom – cold white bulbs in rooms – such as the kitchen or bathroom – will keep you awake and active. In addition to conventional ceiling or floor lamps, LED strips are becoming increasingly popular. You can place them along your walls, mirrors or furniture. They are also ideal for illuminating stairs.
Plants
Plants are perfect for brightening up your home and creating a pleasant indoor climate. Cactus, dragon tree, aloe vera and the single leaf are among the most popular houseplants and can be placed very well on homemade wooden planks.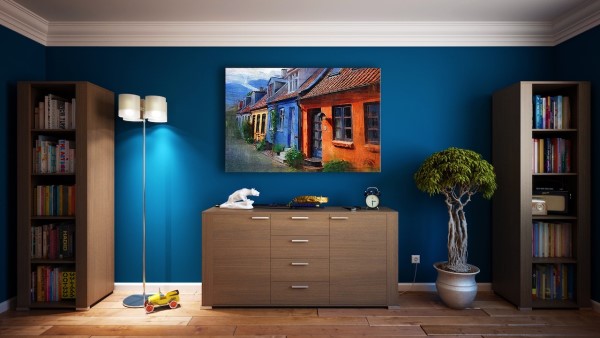 Our Tips
So that you can fully concentrate on renovating your home, we recommend that you store your belongings outside your home in the meantime. This way they will not interfere with you, craftsmen, electricians, painters or other experts doing repair work.
At BOXIE24 you can easily and conveniently store your objects in self-storage. And the best part: with our transport service you don't have to worry about anything. We collect your objects at the start of the renovation, store them safely with us and return them to you after the work has been completed.
Are you interested in storing your belongings with us? Please give us a call or fill out the online quote form.