BOXIE24 offers the best value for money in the market for storage room rental. Our prices are transparent and affordable and they include many services. For example, up to 4m2, we offer a free pickup of your stored goods.
Rent a storage room: Our prices
Two factors affect storage costs: How much space do you need and for how long do you need your storage room.
Rental period:
Minimum rental period: only 2 months
3 months: cheaper monthly rate
6 months: first month free, free pick-up and 5% discount
12 months: additional 10% discount
Storage room space:
Minimum space: 1m2
Maximum space: 200m2
Or any size in between 
Just call our free hotline and we will be happy to assist you – or check out our prices per location on our website.
How much storage room do I need?
There are 3 ways to identify the amount of space you need in your storage room:
Storage Space Calculator
We have developed a storage space calculator for you. Simply select your items and let us calculate the approximate storage space required.
Rule of thumb
You need about 10-15% of the living space as storage space. This means that a 50m2 apartment can usually be stored in 5-6 m2.
Call a BOXIE24 storage expert
We will be happy to help you estimate the storage requirements. Just contact our team of experts: with our many years of experience, we will guide you in determining your space requirements.
Also, check out our tips on how to save space and money by packing and preparing in a smart way when renting storage.
Rent a storage room: Quality matters
In addition to price, quality matters a lot when choosing the right storage provider. At BOXIE24 Storage, we place the utmost importance on not only offering the most attractive price but also being at the top in terms of customer service and quality.
Renting storage at BOXIE24 storage space, therefore, means for our customers:
Cheapest self-storage prices
100% secure storage of your items
Pickup and delivery service
Flexible terms and periods of notice
So "eyes open" when renting storage: Prices can vary greatly with different storage box providers. At BOXIE24 Storage we guarantee you the best combination of low prices and professional service for your storage. Try it out!
If you are renting storage for the first time, we will be happy to explain how self-storage works.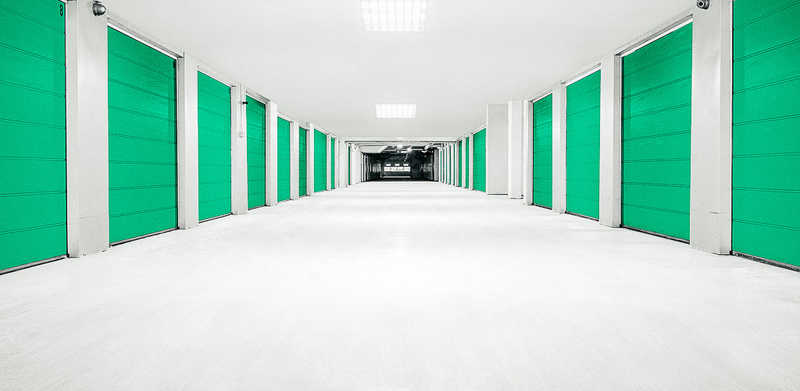 Storage for furniture
You have furniture that you do not need at the moment and you want to store it gently for a while? Then the most important thing is professional storage. 
When storing furniture in the wrong way, your furnishings can quickly suffer damage, which can cause you a high financial loss. Therefore, renting a garage to store furnishings is not the right option.
So, professional storage is the first step to saving money – and such storage doesn't even have to be expensive if you follow a few tricks.
With the following tips, you can easily estimate the cost and quality of the storage provider when storing furniture:
A dry climate with good air circulation
 
Protection from water damage by storing above street level
 
Cleanliness to avoid dirt and pest infestation
 
Transportation assistance to pick up and return your (heavy) furniture items
 
Professional security of the warehouse with alarm systems and guards

At BOXIE24 Storage we guarantee you the best combination of low storage prices and professional service. In addition to your furniture, you can of course store other items, such as moving boxes or crates, bicycles or paintings.
More information about renting storage at BOXIE24?
Want to know quickly if we serve your area with our storage services? And how quickly we can pick up your items? Check out our storage locations or give us a call (for the fastest answer).