BOXIE24 is a leader in this new trend to full-service storage which is opening up convenient, flexible ways to temporarily store your items to save space and stress.
What comes into your mind when you think of putting something 'in storage'? For most people, this conjures up images of things put out of sight and out of mind for an indefinite period of time.
Storage is where you confine the old hobbies you don't intend on picking up again, toys and clothes of children who aren't children anymore, or inherited heirlooms that just don't fit your home's modern look.
Storage doesn't have to be permanent
In short, people think of storage as something permanent. However, increasingly millions of Australians, particularly in cities like Melbourne and Sydney, are discovering convenient ways in which they can make storage work for them.
Service-orientated Storage Model
People are finding a storage industry that is shifting to a more service-orientated model in which storage plans and solutions are customized and tailored to suit a customer's particular needs.
BOXIE24 is a leader in this new trend to full-service storage which is opening up convenient, flexible ways to temporarily store your items to save space and stress.

The Benefits of Temporary Storage
You may think the idea of temporary storage sounds interesting, but what really are the benefits of having access to an extra space?
Having a flexible storage plan can allow you to temporarily declutter your home. What it means to temporarily declutter is to swap items in and out of your storage depending on when you think you may need them.
In essence, it is making use of the BOXIE24 model, in which getting something delivered to your door is as easy as an email or phone call, to change from the old idea of storage as somewhere you put something only if you're sure you'll never need it again. In Melbourne, the value of being able to simply have somewhere to put your stuff so that it no longer gets trapped underfoot is extremely high.
Melbourne has one of the highest rent anywhere in the world, which means that nobody has enough space. This feeling of being crowded, even in your own home has been shown to have negative effects on everything from mental health to productivity. As we're spending more and more time at home, the value of temporarily decluttering and finding some space to breathe in a claustrophobic city is becoming clearer and clearer.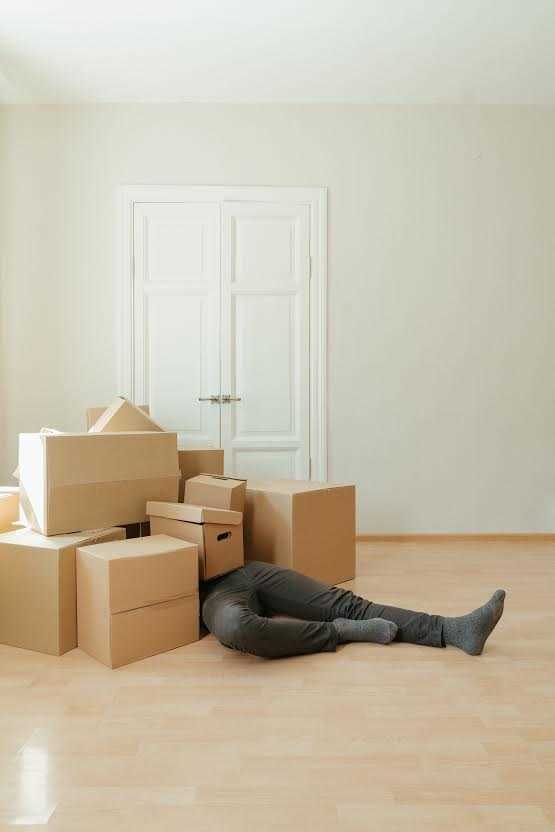 Suggestions for Temporary Storage
What we find at BOXIE24 is that these ideas sound very interesting in principle (who doesn't want more space right?) but that people often struggle to begin selecting things that they want to get out of the way. So we've drawn up a list of things you may want to approach when thinking about temporary storage.
Seasonal Storage
This is by far the most common form of temporary storage we see at BOXIE24. Seasonal storage is a simple way of freeing up space in your home that is being taken up by items that you don't intend to use for at least another 6 months. In the winter months, consider storing outdoor furniture, large outdoor grills, or summer sports equipment like golf clubs or surfboards. This will have the dual impact of freeing up space and keeping your items protected from the city's winters. In the summer months, consider getting rid of bulky winter items such as large coats, skiing equipment or patio heaters. These are often the types of things that end up being tripped over in December, which can be so frustrating.
Students Storage
At BOXIE24 we have storage solutions for every conceivable size and budget. We find a lot of students who come to Melbourne to study from all over the country and world find it much easier to temporarily store their items over the summer break, rather than rent an apartment which they won't be in for 4 months. When the time comes to return to Melbourne, we deliver your stuff back to you at any location in the city. What's more, Boxie24 values our student customers so much that we offer a 10% discount to any student wanting to use our services!
Renovations
Having some much-needed and long-anticipated work done to the house? But maybe you're worried about your furniture's safety in the room being painted or remodeled? This is the predicament that BOXIE24 has solved for many of its customers. Rather than covering your items with protective plastic and hoping for the best, it is worth considering having them moved totally out of harm's way so that you can be sure that they're safe and ready to go back into that remodeled space. Then, once your work has been done, our team will move them right back into the room and you can get back to making sure that everything is in its place.
Business Storage
Temporary storage can also work wonders for businesses. During the COVID-19 pandemic, BOXIE24 has helped hundreds of business owners store stock and other assets while temporarily closed. We also see restaurants wanting their patio furniture and umbrellas stored during winter, and online stores using us to keep stock ready for shipping to customers. In short, for every business, there is a unique need and for every unique need there is a BOXIE24 solution.
BOXIE24 is leader in changing Melbourne's storage market so that it is flexible and convenient enough to help you meet your changing storage needs.
So whether you are a business owner, student or you would just like a bit of extra space around the house, give us a call so we can tailor a service for your needs. Get in touch with us at 1800-921-265  and one of our storage experts will be able to assist.
More information about renting storage at BOXIE24?
Want to know quickly if we serve your area with our storage services? And how quickly we can pick up your items? Check out our storage locations or give us a call (for the fastest answer).